Club
Wellington Phoenix
Last season
Tenth
Players in
Luke Adams [Derby County], Josh Brindell-South [Moreton Bay United], Reece Caira [Western Sydney], Kenny Cunningham [The Strongest], Carlos Hernandez [Prayag United], Lewis Italiano [Perth Glory], Alex Rufer [Wairarapa United]
Players out
Isaka Cernak [Perth Glory], Jimmy Downey [released], Cameron Lindsay [Team Wellington], Tony Lochhead [released], Lucas Pantelis [released], Mark Paston [retired], Dani Sanchez [released], Alex Smith [Oakleigh Cannons], Benjamin Totori [Oakleigh Cannons]
Coach
Ernie Merrick
Captain
Andrew Durante
Expectations
Last season was a major disappointment for New Zealand's A-League representatives, with issues off the field - specifically the interference of the club's owners and demands for a more attractive, possession-based playing style - prompting a form slump and the departure of inaugural coach Ricki Herbert after six seasons in charge.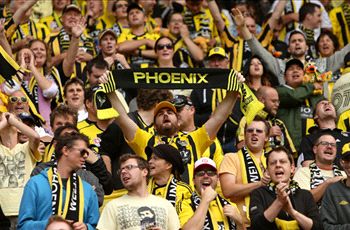 Chris Greenacre acted as caretaker during the long wait for a replacement to be named, with Ernie Merrick eventually chosen as the man to take the club forward.
The jury is very much out on whether or not the 60-year-old can take Wellington to the next level. His two titles with Melbourne Victory were won when the A-League was a very different place - the competition has advanced physically and tactically since then, and Merrick's tenure in Victoria ended with a whimper, as he struggled to coax the old game-changing magic out of Carlos Hernandez.
Intriguingly, the mercurial playmaker has been reunited with his former manager, and the Phoenix will need him fit, firing and motivated if they are to improve on last season's showing.
What has to go right
Recruitment. Wellington have several talented forwards in Paul Ifill, Jeremy Brockie, Stein Huysegems and newly arrived Costa Rican duo of Kenny Cunningham and Hernandez. But they are appear light in midfield and defence, and Merrick needs to bring in more bodies to cover for injuries and the inevitable absences through suspension and international duty in the season ahead.
Worst-case scenario
Doubts that Hernandez is well past his prime are confirmed, and Cunningham fails to settle and fire, leaving Phoenix scratching around for alternatives, and on course for another season of mediocrity in front of a sparsely populated Cake Tin.
Nightmare Headline
"Double trouble as Hernandez, Cunningham head home on strike"
We think
Merrick has plenty to prove after exiting Victory under a cloud, and that motivation, combined with his considerable experience, should stand Wellington in good stead. But he doesn't represent a major improvement on stalwart Herbert, and lacks the playing resources to guide Phoenix into the finals.
Prediction
Tenth