Throughout the 2013-14 season, Simon Colosimo will provide Goal Australia readers with exclusive insight into life as a professional footballer in India, his role as president of Professional Footballers Australia and key issues affecting Aussie players at home and abroad.
In the first instalment, our star columnist introduces us to his new club Dempo SC, a powerhouse of India's I-League which is now under the management of former Socceroos youth coach and Newcastle Jets assistant Arthur Papas.
A well-travelled man, Colosimo's playing career has taken him to England, Belgium, Malaysia and Turkey.
And he believes the familiarity of being in and around the club is the quickest way to settle in a new environment:
I think the easiest part of moving to another country is training.
People say 'how do you do it?', 'it must be hard for you'. I think that's the easy part. The hard part is for your family. There's a lot of downtime for them. Whereas you go into training and I think every training group is pretty much the same. There's the boys that love a good laugh, there's the guys that are in two hours before everyone else. There's the guys who are always chasing their tails. It's pretty normal. They're a really funny bunch of boys.
That's what football does, that's what training does. At the end of the day there's one ball, everyone's trying to score and defend their goal. Obviously it's tweaked with different coaches, and tactically, but ultimately everyone understands it, everyone knows what a changing room's like. I've been impressed by a number of the younger players, and the older ones.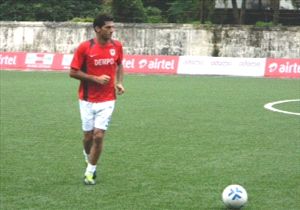 There's some really good professionals. [With] those little things like the good conditioning standards, the good recovery standards, the training facility, a lot of these guys will prosper even better and they'll go to another level.
There is a lot of potential here - there's no doubt about that - in India and especially at Dempo.
There's not only the lure personally, but also from a PFA perspective, we're seeing that players are moving to Asia. If I can help create better standards here, at my club, that will have a flow-on effect to others and it'll give Aussie boys a better opportunity to come to Asia.
That's one of the advantages of having Arthur Papas here as the coach. His first priority was to come over and source a good training venue that will be consistent. It's a synthetic pitch, but it's one of the better ones I've used. You know exactly where the ball's going and what it's doing. Especially through this part [of the world] because there is so much rain, it'd be very difficult to have a grass pitch stay consistent.
There's a gym at the club office, which is in the city. The infrastructure probably isn't there [yet]. A big reason the Dempo chairman's brought Arthur in is for that. To get those infrastructures right. It'll take time.
The desire to turn the club into a professional outfit is there.
Slowly but surely it's happening. It might sound very minimal or something we take for granted in Australia, but we've now got ice baths for the first time at Dempo.
It's a lot of work, [but] if there's any input that I can give ... in terms of trying to give players every opportunity to be at their best all of the time [then I will].
In the weeks ahead, Simon will tackle the hot topic of the Socceroos and examine what lessons India can learn from the relationship between clubs, the governing body and players in Australia.