As it had been throughout qualifying for the 2014 World Cup, Australia booked their place in Brazil the hard way.
The 1-0 win over Iraq in Sydney on Tuesday helped the Socceroos avoid the dreaded play-offs, but again highlighted the work ahead of Holger Osieck.
Brazil 2014 is less than a year away from kicking off and Australia should put qualifying celebrations behind them as soon as possible.
Avoiding a disastrous first-up performance like the one against Germany in Durban in 2010 is a must.
Much has been made of Osieck's failure to regenerate the Socceroos squad, but he has achieved his major goal of reaching the World Cup.
But qualification cannot cover up what have been some dismal performances, and the serious work ahead in the next 12 months.
Plenty will change with a season to play out between now and the World Cup, but Osieck will be aware there are certain things that must take priority for the Socceroos as they look to strengthen ahead of Brazil.
1. GIVE OTHERS AN OPPORTUNITY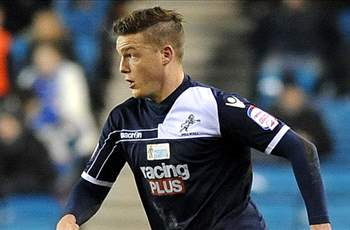 A host of golden generation members may yet be the team starting for the Socceroos in Brazil, but cannot be relied upon unless they are proven to be the best in their respective positions. Left-back continues to be a problem area and there is no reason the likes of Shane Lowry [right] should not be given a chance in the lead-up to the World Cup. Matt McKay, Lucas Neill, Sasa Ognenovski and Luke Wilkshire performed admirably in the final three qualifiers, but it is a back four which could be torn apart against top-quality opposition. If there are no better options, that can be accepted - but others need to be given a chance, starting with July's East Asian Cup.
2. DROP THE AVERAGE AGE OF THE STARTING XI
The average age of the starting side against Iraq was 30.6, very similar to the age [30.7] that started against Germany in 2010. Compare those numbers to the side that overcame Japan in Kaiserslautern [27.7]. Spain [26.8] and the Netherlands [27.6] were the 2010 World Cup finalists. Experience is undoubtedly valued at such tournaments, but it cannot be solely relied upon. Once others see their chance, they must grab it and Osieck must have faith in some of his younger players.
3. ROGIC AND HOLMAN NEED GAME TIME
Tom Rogic only needed 20 minutes against Jordan at Etihad Stadium to show his value. It took him barely five minutes after being introduced to have a small impact against Iraq. Brett Holman - Australia's star at the 2010 World Cup - has a serious fight on his hands to keep his spot in behind the striker. But who will get the game time and be able to state their claim for the spot? Holman has indicated he may leave Aston Villa to ensure he gets just that, while Rogic is still settling at Celtic. Both will have a role to play in Brazil, but who will play the supporting one?
4. BUILD AROUND KRUSE AND OAR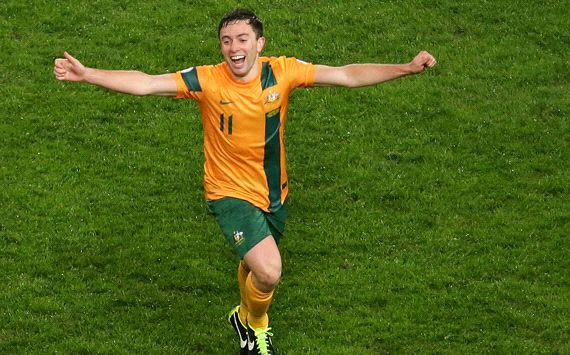 Giving Tommy Oar [above] a start against Japan may have come due to injury, but he scored a crucial goal and performed well in Saitama. The 21-year-old is raw and often shows his immaturity and freedom to dare when running at full-backs. But that type of energy and adventure are exactly what Oar and 24-year-old Robbie Kruse can provide to a Socceroos side that often lacks penetration. Mark Bresciano was undoubtedly a major player late in qualifying, but Oar and Bayer Leverkusen-bound Kruse are two who will be a key at the 2015 Asian Cup and beyond. They play at a high level in Europe and have the skills to threaten top-class defenders.
5. A-LEAGUE STARS MUST SHINE
The A-League season finishes later than ever to give domestic-based players an opportunity to be at Brazil 2014. Osieck is open to giving them chances, and there is no reason a few more cannot join Mark Milligan in impressing and perhaps winning a starting berth with the Socceroos. Opportunities await several players – Trent Sainsbury [should he remain with Central Coast], Dario Vidosic, Ivan Franjic, Mate Dugandzic, Archie Thompson, Aaron Mooy and Craig Goodwin, to name a few. Harry Kewell cannot be forgotten, but much will be dependent on what he can produce for the Melbourne Heart next season.
6. AGING STARS MUST FIND CLUBS AND STAY FIT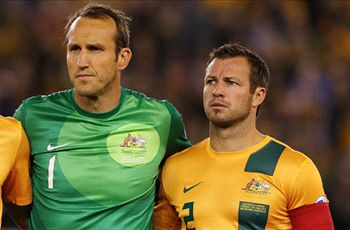 Mark Schwarzer and Neill [both right] played critical roles for Australia, but both are searching for new clubs and need to ensure they are competing regularly and at a relatively high standard. Schwarzer may still be No.1 come the World Cup and Neill will be required, whether that be captaining, starting or just playing his part and providing the experience. Tim Cahill needs to stay fit, as does Bresciano, who remains the Socceroos' best passer and underlined that fact with a pinpoint cross for Josh Kennedy to head in the winner against Iraq. Milligan is learning plenty alongside Bresciano and that could easily be the central midfield pairing come Brazil.
Goal Australia now has its own

and

account, so for all the latest news and features on Australian football follow us by clicking on the above links