Not so long ago, as the Socceroos were gearing up to play Japan, the road to Brazil appeared full of potholes and devoid of positives.
Coach Holger Osieck was under extreme pressure, with two poor results in the Socceroos' remaining three AFC World Cup qualifiers meaning their absence from Brazil and the German out of a job.
It has been clear that Osieck's team selection and style of play employed over the past year has not been working. Without the win and draw salvaged in come-from-behind results against Iraq and Oman, the Socceroos would be out of the running to qualify automatically for the World Cup - even despite Tuesday's 4-0 win against Jordan.
This emphasises how close it has been to a completely disastrous campaign.
But with the spirited 1-1 draw against Japan and the terrific performance at Etihad Stadium, it is time to give credit where it is due and recognise the emergence of significant positives.
After a series of poor defensive performances, Osieck made the bold decision to partner Lucas Neill, 35, who had only played seven competitive games in the last year, and 34-year-old Sasa Ognenovski, whose Socceroos career had seemed over.
The duo re-produced their commanding partnership of the 2011 Asian Cup and made it clear they will be on the plane to Brazil - subject to qualification.
While they both have lost a yard of pace, their organisation, aerial domination and physical presence is something that no other Australian centre-half duo can come close to at present.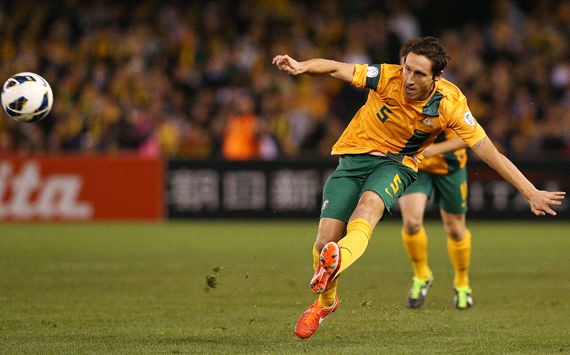 Milligan has become a crucial player in Osieck's plans.
In January last year, Mark Milligan was playing for JEF United Chiba in the J.League Division 2 and was no regular in Socceroos calculations.
He is now arguably Australia's most important central midfielder. While Marco Bresciano and Mile Jedinak also have solid claims, Milligan's ability to protect the back four, win the ball in midfield and contribute to attacks means he is now a crucial asset to the team.
Osieck deserves plaudits for giving him the opportunity.
A Socceroos team that was lacking pace is being rewarded by the speedy development of Robbie Kruse and, to a lesser extent, Tommy Oar. Kruse, who will turn out for Bundesliga giants Bayer Leverkusen next season, is improving constantly.
Oar is still very raw but his performances in the qualifiers against Jordan and Japan were encouraging. With the benefit of another season in the Eredivisie with FC Utrecht, the Socceroos could have another very damaging and exciting player on the flanks.
The manner of how Australia took apart Jordan was impressive and was definitely the side's best overall effort in a number of years.
Despite the fact the Middle Eastern nation are hardly giants of the football world, they certainly are not easybeats. Wins against the Socceroos and Japan in Amman were testament to that.
Once the Socceroos won the ball back on Tuesday, they attacked swiftly with purpose, repeatedly opening the Jordan defence up with clever combinations and movement that was exhilarating to watch.
While they still have not qualified for the World Cup, a repeat performance in Sydney against Iraq - a side with nothing to play for but pride - will see the Socceroos comfortably through to Brazil next year.
If Osieck gets the job, done he deserves significant credit. While he and the team have struggled over the past year, it appears the situation could be turning for the better with his recent alteration of style and personnel a huge factor.
The road to Brazil is now far clearer and is brimming with positives.
Even though there is still a number of a senior player to replace over the next few years, new blood is emerging and the likes of Tom Rogic, Trent Sainsbury, Bernie Ibini and Terry Antonis are all waiting for their opportunity.
A lot can change in 14 days. Maybe the future is not that bad after all.