OPINION
By DEJAN KALINIC


Harry Kewell is reportedly set to sign a deal with the Melbourne Heart - 14 months after he played his last game for their cross-town rivals Victory.
He has played just three games at club level since, and his bid to gain selection for Australia's World Cup qualifiers in June subsequently failed.
A Kewell return to the A-League has raised questions, despite the clear win-win scenario.
Firstly, Heart sign a forward who is capable of lighting up the league - reportedly on a minimal wage - and can draw crowds.
Secondly, Kewell finally finds a club, which is what has been asked of him for the past year, and can finally prove he deserves Socceroos selection.
The 34-year-old still holds hope of playing at the 2014 World Cup in Brazil, and impressing during an A-League season which finishes in May next year gives him the chance to do that - should Australia reach the finals.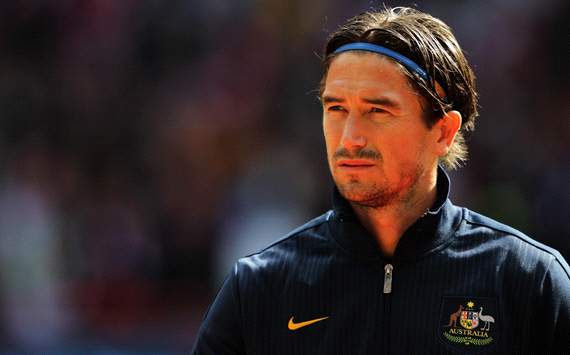 Harry Kewell retains hope of being part of the 2014 World Cup with Australia - should the Socceroos make it - and a move to Melbourne Heart would greatly increase his chances.

The former Leeds United star's motives have been questioned and, given the drawn-out contract saga leading to his signing for Victory, rightly so.
But so what if Kewell's latest decision is one based on his personal interests?
If the club is happy and if he accepts a minimal wage and contributes on the field, it will be a win-win.
And, if a story in
The Australian
on Friday is to be believed, Kewell had confirmed offers from England and the Middle East as well as Australia.
One of the country's finest-ever players has apparently decided to return, yet cynicism surrounds his move.
His failure to find a club - other than Al Gharafa on a short-term contract - during the past year would have hurt.
When he jumps into a wheelie bin at Heart's La Trobe University base for his ice bath, it will take yet another beating.
How he will go playing under former team-mate John Aloisi remains to be seen.
The signing of a veteran brings into question Heart's identity, which still needs to develop as the club grows older.
More importantly, Aloisi's team will be under pressure to perform in 2013-14, and he would know better than to sign a player whose presence could undermine their efforts on the pitch.
Kewell's return will bring the 'circus' - as described by Heart chief executive officer Scott Munn in August 2011 - back to town.
But if they can handle that and Kewell can handle himself, the deal is the dream result for both parties.