ANALYSIS
By ADRIAN HOUGHTON


Week 37 of Goal.com's EPL Fantasy saw managerial legend Sir Alex Ferguson's career celebrated at Old Trafford, and playing legend Frank Lampard etch himself into Chelsea folklore.
For sorry Wigan, their loss to Arsenal on Tuesday all but confirmed relegation after an eight-year stint in the top-flight.
So coaches, we enter the final week of action.
For all those competitors out there leading their respective league, can you hold your nerve?
It is tense, and with so many teams effectively playing for very little it is going to make it even more difficult to predict.
All you can do is keep a close on eye on the squad news and take note of the players in form.
On behalf of Goal Australia, we want to thank all the 16,825 participants for joining EPL Fantasy competition and we look forward to you re-joining us again next season.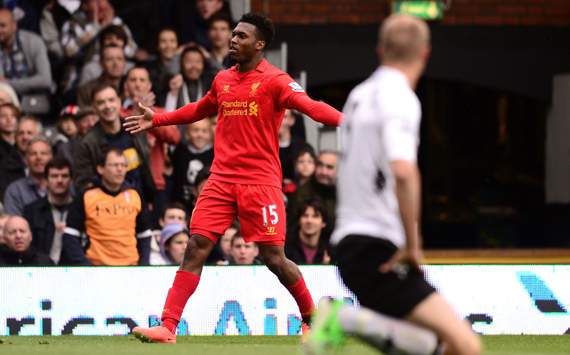 Daniel Sturridge – Liverpool (38 points)
The Englishman has started his Anfield career in blistering form, scoring 11 goals in 15 outings, and helped himself to a first hat-trick away to Fulham – £14,890,000.
Santi Cazorla – Arsenal (34 points)
Fantasy league's third-best performer and it is little wonder why, with the attacking midfielder assisting all four goals against Wigan to edge his side closer to Champions League qualification – £12,680,000.
Frank Lampard – Chelsea (30 points)
Became the club's all-time top goalscorer with his brace against Aston Villa. A certified Premier League legend who continues to defy his age – £13,770,000.
Pavel Pogrebynak – Reading (4 points)
Was a pontential Fantasy league bargain after his strong showing at Fulham late last season, but has failed to live up to the billing – £4,620,000.
Kieran Richardson – Fulham (2 points)
The former Manchester United and Sunderland wing-back has been blighted by injuries and cannot sustain a run in the team. It is a shame for a player who looked set for big things – £3,030,000.
Adel Taarabt –Queens Park Rangers (2 points)
The enigmatic Moroccan has failed in his quest to achieve some consistency in his game and is nothing but a player with potential who only occasionally produces the goods – £4,800,000.