By

LEE YONG-HUN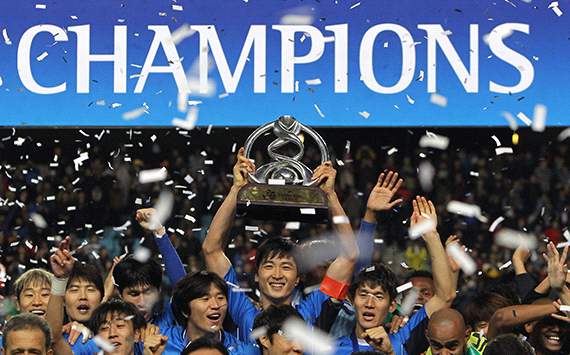 Ulsan Hyundai was founded in 1983 December. Born as Hyundai Horangee [Tiger in Korean] and originally located in Incheon, they were the founding member of K-League in 1984 and finished third in the competition's maiden season.
In 1987, they moved to Gangwon before finally arriving in Ulsan at 1990. In 1996, they changed the team's name to Ulsan Hyundai Horangee and then in 2008 became Ulsan Hyundai.
Ulsan have won the K-League twice [in 1996 and 2005], and were runners-up five times. They have lifted the league cup on five occasions, making them one of the strongest team in Korean football history.
The first two seasons after appointing Kim Ho-Gon the manager in 2009 were disappointing.
But in 2011, Kim tweaked his system to a defensive strategy.
Ulsan subsequently won the league cup and finished second in the K-League, consequently earned the nickname 'Mace football'.
Last season, Ulsan won their first AFC Champions League title on the back of stars such as Lee Keun-ho, Rafinha and Kim Seung-yong.
Ulsan Munsu Stadium, also known as 'The Big Crown', was built in the process of preparing the 2002 World Cup. Construction started in 1998 and finished in June, 2001. It consists of five floors - two of them underground - and can host 44,102 fans. The stadium was designed as an image of a Crane, which is the symbol of the city Ulsan.
The club has partnership with Ulsan Hyundai middle school and Ulsan Hyundai High School. Each academy runs a Under-15 team and a U-18 team. Recently, Ulsan also founded a U-12 team. Hyundai High School won the most 53rd annual Cheong-Ryong High School football tournament. They also won the Man United Premier Cup and Spring Korean Middle School competitions, earning a ticket to compete at the world title.
STAR PLAYER - KIM SHIN-WOOK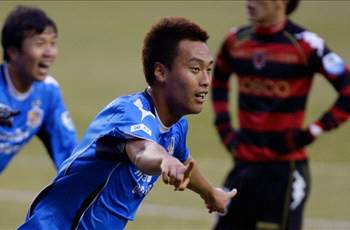 Kim began his career as a defender, but he is now one of the best strikers in K-League and has been recognised at international level. In 2009, when Ulsan had a major injury crisis manager Kim Ho-Gon thrust Kim forward. Using his 196cm-height, he is very powerful in the air and he became the symbol of Ulsan's 'Mace football'. He uses the ball well, has good technique and is also very smart, making him a tactically useful player. He is renowned for his workrate, making him a favourite among the fans.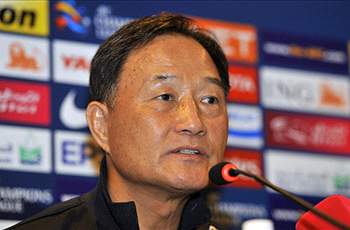 On August 8, 2012, Kim became the 12th manager to achieve 100 wins in K-league. It meant he was the third-fastest manager in Korea to reach the milestone, after Cha Gyeong-Bok and Choi Kang-Hee.
The 2013 K-League is being dominated by younger managers such as Hwang Sun-Hong, Choi Yong-Soo and Seo Jeong-Won. But Kim stands out as one of the more experienced coaches, consistently leading Ulsan to the upper end of the table.
Goal Australia now has its own

and

account, so for all the latest news and features on Australian football follow us by clicking on the above links