OPINION
By RYAN McGEE


On the eve of a Champions League semi-final, against the most successful team in the history of the competition, there is probably no worse time for the news that a club is about to lose its prized asset to their arch-rivals.
But that is what happened to Jurgen Klopp and Borussia Dortmund, when it was confirmed Mario Gotze will move to Bayern Munich on July 1.
In the process, he will become the most expensive German player ever, with Bayern paying a record fee of €37 million for his services.
Dortmund fans are feeling betrayed, and who can blame them?
Dortmund reportedly asked for a police presence for Tuesday's training session following the announcement, expecting supporters to vent their fury at their young superstar.
A product of the Dortmund youth academy, Gotze rose up the ranks of the club since the tender age of eight, and has earned the praise from the likes of the legendary Franz Beckenbauer, who called him Germany's answer to Lionel Messi.
The 20-year-old's vast amount of talent has been on show since making his Bundesliga debut in 2009, displaying the exceptional amount of pace and creativity that led him to be courted by the biggest clubs in Europe.
So, out of the numerous options that he had to choose from, why Bayern?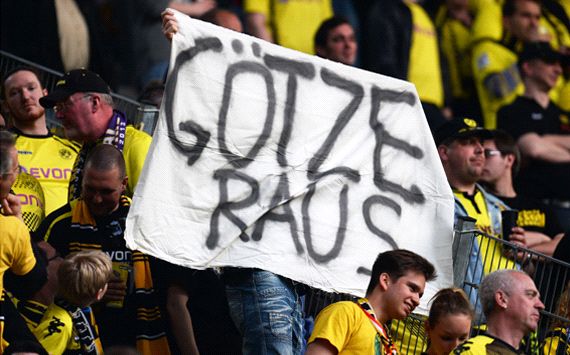 Dortmund fans made their feelings known during the club's 4-1 win over Real Madrid on Wednesday.
The young midfield dynamo surely owes more to Dortmund than to jump across to their biggest domestic rivals for what many fans simply feel is for a bigger pay-check.
But regardless of reaction to his move, there is one legitimate reason that can be brought up for Gotze to make such a bold move.
"He is the player that Pep Guardiola absolutely wanted," said Klopp.
"Therefore all we can say is that he wants to take the chance to work with that exceptional coach.
"I find that totally acceptable."
Having the opportunity to work with one of the highest regarded managers in the game is a chance at which any player in the world - bar perhaps Zlatan Ibrahimovic - would jump; a simple fact that Klopp has acknowledged, and one with which Dortmund fans are going to have to quickly come to terms.
Klopp's reaction to the timing news being made public was understandably one of disdain, but it seems he himself is beginning to deal with it.
"Time doesn't heal all setbacks, but if definitely helps," he said.
And despite all the thumping that Dortmund handed out in the first leg of their tie with Madrid, this is sure to be a massive blow.
Only time will tell if the controversial decision that Gotze has made will pay off, but his credibility has been tarnished in eyes of many.
He has little time left at the only senior club of his career, but how he will be farewelled by the fans who adored him will be intriguing indeed.
Goal Australia now has its own

and

account, so for all the latest news and features on Australian football follow us by clicking on the above links