By

SHAM MAJID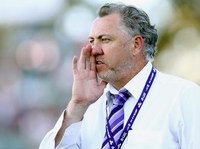 Ahead of Sunday's grand final clash between Western Sydney Wanderers and the Central Coast Mariners, David Mitchell takes a trip down memory with Goal Australia and sheds light on the biggest day in Australian domestic football as he knows it.
As player-manager, former Australia international Mitchell was the man who led Sydney United into the 1999 National Soccer League grand final at Melbourne's Olympic Stadium.
A playing career that included stints at Rangers, Feyenoord, Chelsea, Newcastle United and many more ended that season, with Mitchell taking charge of Parramatta Power in the 1999-2000 campaign - the club's maiden season.
While most recently with A-League club Perth Glory during the 2010-11 season, Mitchell knows better than anyone what football means to the people of western Sydney, and also provides an insight into what players of both sides could be feeling come Sunday's match.
ON PREPARATIONS FOR THE 1999 NSL GRAND FINAL...
"... I could sense that one or two young players in the squad were a little nervous before the grand final match against South Melbourne, but besides that, we had a very experienced squad.
"I simply told the younger players to relax, play their normal game and to work very hard. There were also other aspects to deal with, such as getting tickets for our families to come down and watch the match.
:Since it was the grand final, it was a big game so everyone's families wanted to be a part of it and we had to make arrangements for dinner plans after the game, so those were the preparations off the pitch."
ON HOW IT COMPARES TO OTHER FINALS...

"...I have played in a lot of big matches in my career.
"In Malaysia, I played in front of 95,000 fans in the Malaysia Cup final in 1995, and I also played in Wembley Stadium for Millwall during the 1993 First Division play-off final.
"So having played in big games before, the 1999 grand final was not really an experience I never had before. I was pretty relaxed and calm before the game although the grand final was indeed a unique match for me, since it is Australia's biggest football match."
ON WHAT HE REMEMBERS OF THE 1999 FINAL...
"... I still clearly remember that it was a cold and blistery day during the grand final. We had the wind on our side in the first half and we dominated the game while South Melbourne dominated the second half when they had the wind.
"A wicked corner by our opponents forced the ball in and they scored a goal.... Conditions played a big part that day.
"We scored the first goal before South Melbourne made it 3-1 and we pulled a goal back in injury time to make it 3-2.
"Obviously, we lost the game, but I remember one of their goals looked offside. I told the boys at half-time not to let their heads down and to keep going confidently.
"But sometimes refereeing decisions and other factors can go against you and such matches are decided by very thin margins."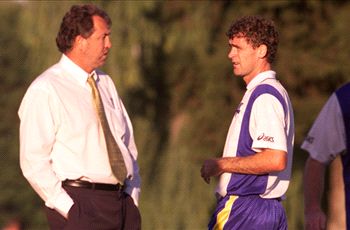 "... Obviously, I was disappointed to have lost the final, but I told the players that we had such a great year and we could feel really proud of ourselves.
"Our club was in administration during the season with players going unpaid and we also had to play our semi-final against South Melbourne in Melbourne instead of Sydney.
"I wasn't sure this was going to be my last game as well, as I was having contract negotiations with Sydney United. But Parramatta Power were a new club that just got formed and I became their new coach.
"We were all disappointed, but we had a great year and we had lost a few players as well, so we could still be happy at our achievements."
ON THE WANDERERS' MAIDEN SEASON...

"... They have had unbelievable support during their inaugural season, so if they don't win it, what's going to happen to them next season?
"They have surpassed all expectations and Tony Popovic has moulded an organized and structured side. It's been an extraordinary season for them."
ON THE MARINERS' CHANCES...


"...
The Mariners have been to the grand final thrice and this will be the fourth time they are competing. They will definitely feel the pressure and the intensity and they will be going all out to win it.
"They will probably be feeling nervous as well, especially since they have never won the grand final before. But these are the two best teams that will be playing in the grand final and they both thoroughly deserve to be there."
Check out part one of Goal Australia's grand final recollections special, featuring Tony Vidmar.

Goal Australia now has its own

and

account, so for all the latest news and features on Australian football follow us by clicking on the above links