OPINION
By DEJAN KALINIC


They have arguably the best squad in the A-League, but can they cope without the man who has developed into their good luck charm?
Tony Popovic's Western Sydney Wanderers will look to complete a dream debut season with victory against Central Coast in the A-League grand final on Sunday.
But they will have to do it without, among others, star winger Youssouf Hersi, whose two silly challenges in last Friday's semi-final cost him a place at Allianz Stadium.
He was perhaps fortunate to escape with only a yellow for his dangerous challenge on Luke Brattan before a late slide sealed his fate with his side 2-0 up against Brisbane.
If the first tackle was unnecessary, the 30-year-old's second was immature and could prove far more costly than just depriving one player of a place in the grand final.
While the Mariners will be without suspended defensive midfielder Nick Montgomery, Hersi's absence has been near impossible to cover.
In five matches without the Ethiopian-born Dutchman, the Wanderers have failed to win, drawing twice and losing three times.
Former Mariner Kwabena Appiah-Kubi looks his most likely replacement out wide on the right.
While Appiah-Kubi, 20, is talented, Hersi has been one of the stars in the league this season.
His willingness to run at defenders, ability to create and score goals and enthusiasm and energy, particularly in leading the Wanderers' pressing, will be missed.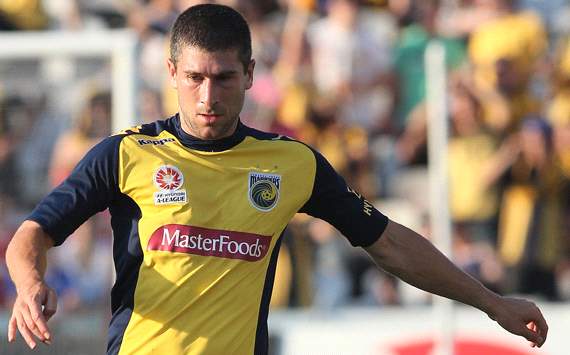 Montgomery's presence will be sorely missed by the Mariners, but do they have the replacements to provide adequate cover?

Montgomery, 31, is a big loss for Graham Arnold's men and the first red card of his long career could not have been more poorly timed.
The Leeds-born midfielder never saw red in over 350 competitive appearances for Sheffield United in the English Premier League and Championship.
What the Mariners miss with Montgomery's absence is vastly different to the Wanderers being without Hersi.
Experience is crucial in finals, and replacing a man who has faced the pressure of promotion battles, relegation battles and FA Cup battles is tough.
But in Oliver Bozanic and Anthony Caceres, Arnold has options, with the former likely to get the nod over a talented but unproven 20-year-old.
It splits the partnership of Montgomery and captain John Hutchinson, which - with Shinji Ono sure to threaten - could be a problem.
As Popovic described it, "magic" will separate the two best teams this season.
Neither team was able to produce it in their first meeting of the campaign, Daniel McBreen's touch helped decide the second encounter and Labinot Haliti – on the back of a lovely Mark Bridge one-touch pass – proved the difference in Gosford.
Referees, the crowd and the pitch will all play a part in the decider, but it will still need "magic" – from somewhere, someone – to win the championship.
Moments decide grand finals – Montgomery can stop it, Hersi can produce it – and the latter's absence may be the difference.