OPINION
By ADRIAN HOUGHTON


He is 35 years of age, in his thirteenth consecutive season of the English Premier League and has made over 400 appearances in the division.
Yet he has never won a cap for his native France.
But that man, Sylvain Distin - Everton's imperious centre-half - feels nothing but pride about where his football journey has taken him.
"I'm 35, I'm in a great club, I enjoy my football, I'm fit, I feel good, there is a great atmosphere where I am; why should I regret?" he told Everton's website.
At face value, they appear to be honest words and convincing too, but the evergreen defender must feel slightly aggrieved to have never represented his country.
However, the former Manchester City and Portsmouth man is a firm believer of time and place.
"Maybe if I'd played for France I wouldn't be here, I'd be at another club, I wouldn't enjoy it, maybe I wouldn't be so down to earth, maybe I'd have a big ego," he said.
It comes as a fair point, and he may have never enjoyed what he clearly defines as the high point of his career - the move to Everton.
Distin bleeds blue and has shown true professionalism during his career on Merseyside.
The love affair between himself and Everton's fans sparked into life almost from the moment he pulled on the No.15 jersey for the Toffees,
The Frenchman has one major domestic honour to his name, winning the FA Cup with Portsmouth in 2008.
Last season, he was desperately close to competing for a second success in the competition, only to see his dream slip away via a horror individual moment.
His inadvertent backpass into the grateful path of Liverpool's Luis Suarez gifted their fierce neighbours an equaliser and the impetus to go on and win a dramatic semi-final.
Distin's overwhelming pain was there for all to see, but the Toffee fans afforded the man a great deal of forgiveness, in what was a mark of how well respected he is on the terraces.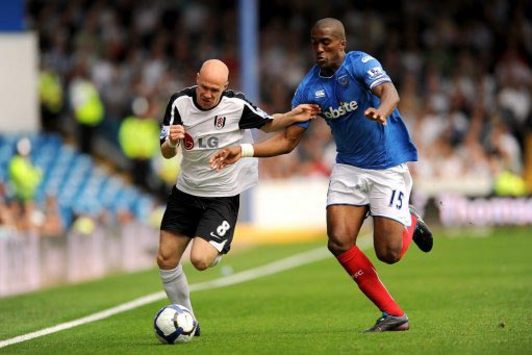 Distin in action for former club Portsmouth, before his move to Everton in 2009.

Timely interventions, strong tackles, expert reading of the game, an aerial ability second to none and an overt passion has made him an esteemed figure – he is the ultimate unsung hero of English football.
From his humble beginnings as a junior at French non-league side Joue-les-Tours, the 193cm stopper has gone on to make a lasting impression in the top-flight.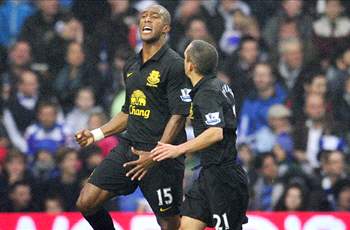 "

... If I had to do it again, I'd do it exactly the same way.

"

- Sylvain Distin
Sometimes people can be guilty of underestimating the importance of leadership on the pitch.
Distin thrives off responsibility and, during his time with Manchester City and Portsmouth, he was bestowed with the honour of club captain.
Everton manager David Moyes must have been delighted to secure his services in the summer of 2009 for a fee of around £5 million.
The Scot would be thrilled with the durability of one of his most astute purchases of his 11-year tenure.
In an unforgiving environment where consistency has become increasingly harder to achieve through the years, Distin has been exception to the rule and he has achieved it in one of the most demanding positions on the pitch.
Re-signing for the club until the off-season of 2014 is just reward for a player who continues to cope with the rigours of Premier League football.
Adored by the Goodison Park faithful, Distin will be fondly remembered by all who have an affinity to the English game.
In his own words: "I'm really happy with what I've got and I'm really happy with what I've done and if I had to do it again, I'd do it exactly the same way."

What a class act.
Goal Australia now has its own

and

account, so for all the latest news and features on Australian and world football follow us by clicking on the above links.