OPINION
By RYAN McGEE


Throughout the past few seasons, football in Scotland - on and off the pitch - has become an increasingly dire story.
In a situation that has become all too familiar over recent years, yet another winding up order from Her Majesty's Revenue and Customs has arrived at a Scottish club - this time for First Division club Dunfermline, who are in debt of around £134,000.
Rangers Football Club [formerly Rangers FC of the Scottish Premier League], completed their first step towards recovery by winning the Division Three title on Saturday.
Crippling debts had placed them into liquidation, relegated them to the fourth tier and forced them to become a new entity [commonly known as the 'Newco'] in 2012.
Their spectacular fall from grace demonstrated that not even the biggest clubs in the land are immune to the harsh economic environment that currently overshadows Scottish football.
Although relegating Rangers to the bottom division was in the name of sporting integrity, it has no doubt had a significant impact on other clubs. A sharp decline in interest has led supporters to watch matches from home, as opposed to paying for season tickets to increase desperately needed club revenue.
Scottish Premier League outfit Heart of Midlothian have recently announced that they would be looking to sell the club to a fan-based consortium after sustaining heavy debts [believed to be in the region of £25 million], risking the jobs of hundreds of staff throughout the club, as well as players.
It has also been a recurring trend in the lower leagues.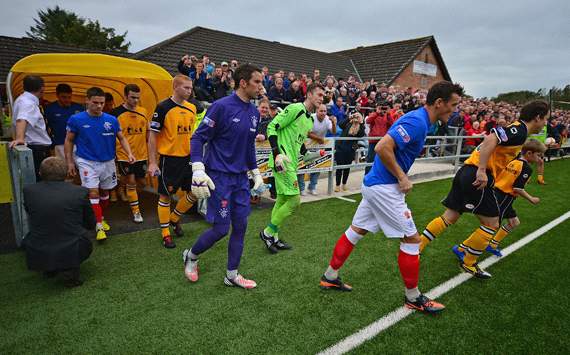 While Rangers have had to grow used to away trips to the likes of Annan Athletic, their absence has hurt the coffers of other clubs in the Scottish Premier League.

Dundee were docked 25 points in November 2010 and imposed with a transfer embargo following their troubles. They have since recovered, now back in the Scottish Premier League and have showed clubs are capable of coming back from the brink.
But not all have been so lucky.
Other lower-league clubs that have suffered similar circumstances include Gretna and Livingston, who were both relegated from the First Division to Division Three in 2008 and 2009 respectively.
Gretna eventually went out of business, but only after the remarkable achievement of reaching the Scottish Cup final in the same year. Livingston, however, have since returned to the First Division.
Intriguingly, however, it has been Scotland's most successful season in European competition.
Celtic successfully reached the knockout phase of the Champions League for the first time since the 2007-08 campaign, beating Spanish giants FC Barcelona along the way to bring some much-needed enthusiasm back to the Scottish brand.
The achievement marked a glimmer of hope for Scottish football.
But Celtic are the only team by a considerable distance who are capable of competing at such a level, as other clubs continue to struggle with domestic matters - no more so than staying afloat for another season.
The effects can be seen at international level, with Scotland already all-but eliminated from qualifying for the 2014 World Cup in Brazil, having only amassed a pitiful two points from six games, leaving them bottom of the group.
Measures are underway in order to get the Scottish game back on track.
One several proposals would be to merge the four divisions into three, with some clamouring for a new format to the splitting of the league in the season's latter stages.
So far, the approach has received a positive response from clubs and their supporters.
Only time will tell, however, if Scotland can reinvigorate their beloved sport from its seemingly never-ending downward spiral.
Goal Australia now has its own

and

account, so for all the latest news and features on Australian football follow us by clicking on the above links