OPINION
By CESARE POLENGHI
GOAL MANAGING EDITOR - ASIA

The result of Saturday's Italian Derby, in which Juventus defeated Inter 2-1 at the Meazza stadium, might have a heavier weight on the future of the
nerazzurri
than one might first think.
In light of the forthcoming Financial Fair Play regulations, dropping points and failing to qualify to the Champions League might bring very serious consequences to Inter's immediate future.
Andrea Stramaccioni's team, now trailing ten points below the third and final guaranteed Champions League spot, must contend with a combined negative balance of €165 million from 2011 and 2012. While owner Massimo Moratti and his financial team are struggling to limit expenses, high salaries still weigh a ton on the club's balance book.
According to official numbers released last week, Inter remitted €165 million in salary, most of it to players, during the 2012 fiscal year. In comparison, Juventus paid their personnel €137 million.
Remunerations to employees are by far the biggest expense for any club in football today, with the basic rule being that costs should not exceed 50 percent of the balance. Italian football, however, is still dealing with inflated, heavily-taxed salaries. In the case of Inter, for example, an astronomical 80 percent of revenues goes to pay wages.
In this context, Champions League qualification is paramount to the financial health of any 'big club'. As an example of how valuable success in Europe is, Juventus would pocket as much as €60 million were they to reach the Champions League semi-finals. The importance of this qualification makes it easier to understand Milan's €70 million gamble over the next five years to secure Mario Balotelli.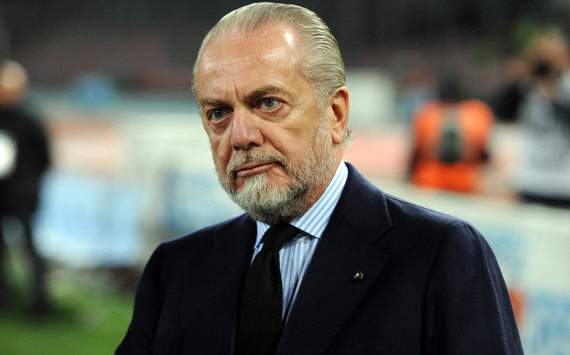 Men like Napoli's Aurelio De Laurentiis may hold the key for Serie A's fiscal health.

A few years ago, Italian football entered a negative spiral that resulted in lower revenues at all levels; half-empty stadiums and the decreased popularity of Serie A resulted in decreased income from overseas TV rights.
An example of the dwindling value of Italian teams comes from uniform sponsorship receipts. Both Barcelona [Nike, Qatar Foundation] and Real Madrid [Adidas, Bwin] net over €60 million each per season, while Inter [Nike, Pirelli] and Juventus [Nike, Jeep] bring in just half that at €30 and €25 million respectively.
However, the news is not all bad. While Juventus are still running a negative balance, if ongoing trends continue they may be the first big Italian club [and one of a precious few in Europe] to profit.
Elsewhere in the country, Lazio are financially fit and planning their own stadium; Napoli's books were in the black for the sixth year in a row: and the Pozzo family in Udine have in recent years expanded their business to Spain and England with the acquisitions of Getafe and Watford. Catania, Chievo, and Cagliari [the latter despite their stadium problems] are also in more than acceptable financial shape.
In the last week, Napoli owner and famed film producer Aurelio De Laurentiis began to push for reforms that could bring much needed change to Italian football. The most revolutionary of his suggestions is to follow the Spanish model, with Serie A youth teams playing in the third-tier Lega Pro.
This would give younger footballers the chance to grow quicker by playing competitive football from an early age, supporting another of De Laurentiis' principles - that of fostering local talent rather than investing millions for foreign players who more often than not arrive with inflated price tags.
These ideas have generated scathing debate, but they have at least sparked a much-needed discussion on the future of Italian football, which closed the 2012 fiscal year with a ghastly debt of €1.63 billion.
The structure and mentality of Italian football is dated, and it makes sense that if there is going to be a renaissance, it must come from people such as De Laurentiis, Udinese's Giampaolo Pozzo or Juventus' Andrea Agnelli. All three are entrepreneurs who have demonstrated themselves capable of creating business models that generate positive results - not just in the boardroom, but on the pitch as well.