OPINION
By IAIN STRACHAN


Vincent Kompany's decision to play for Belgium last Wednesday after missing two months of Manchester City's season may represent a turning point in the battle between club and country.
Manchester United veteran Rio Ferdinand made headlines when he pulled out of Roy Hodgson's England squad to preserve his fragile body, before jetting off to Qatar to appear as a television pundit.
But it is perhaps the case of Kompany which warrants closer inspection.
Having been sidelined since February with a lingering calf problem, watching on as City effectively conceded the title to Manchester United, no-one expected the commanding centre-back to play any part in last week's Fifa World Cup qualifiers.
But as is the custom in this age of disingenuous club managers and distrustful national associations - see previous instances of Sergio Aguero and others flying across the world to prove their ill-health in person - Kompany was obliged to present himself for inspection by the Belgian FA's doctors during the international break.
Having been denied the use of his best defender for eight weeks, Mancini understandably expected little more than a cursory examination followed by a brief for the player to continue his rehab back in Manchester.
So imagine the Italian's surprise when Kompany not only remained with the Belgium squad, but played out the full 90 minutes of a 1-0 win over Macedonia in Brussels on Tuesday.
As the organisation which pays Kompany's substantial wages, City can be forgiven for expecting the player to put the interests of his employers first, with Mancini unequivocal on the issue.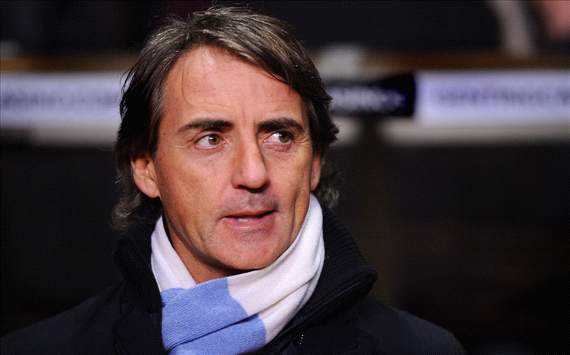 "I knew he was joining up and asked him to stay here for treatment," the City manager [pictured above] said on Thursday.
"It is right that he should go and meet with the Belgium medical people, but then he should come back.
"I expected that he wouldn't play, and that he would be back after one or two days. Instead, he played for 90 minutes and now we don't know his condition. The calf is a difficult injury and we don't know if he will be OK or not."
"Sometimes players should understand that the club is more important.
"I didn't want him to play because it was a risk, and for us the next two months are really important."
But in the context of City's season, it is difficult to agree with Mancini.
Out of the Champions League and 15 points behind United in the Premier League, the team have relatively little to play for.
Barring a major collapse, they will almost certainly qualify automatically for the Champions League next season, while the FA Cup, still up for grabs, is little more than a consolation prize for the big boys.
By comparison, Belgium are involved in a fierce battle to reach their first major tournament since 2002.
Marc Wilmots' team lead Group A of Uefa qualifying on goal difference from Croatia after both teams took six points apiece from their last two matches.
League championships and elite European competition may be the pinnacle of a player's career at club level, but there is surely no greater honour than leading your country out at the World Cup finals.
As the captain of a wonderfully talented Belgium side, that is exactly what is in store for Kompany next year, but only if he and his team-mates can secure a ticket to Brazil.
At 26, Kompany can realistically expect no more than two further opportunities to reach another World Cup if Belgium fall short of a spot in next year's showcase.
With no intention of letting this opportunity pass him by, the former Anderlecht man - evidently nearing full fitness - opted to incur Mancini and City's displeasure rather than give up his place in the national team.
Following more than a decade of club managers leaning on players to scale back their international commitments, perhaps the tide could soon be turning.
After all, if incidents like last week's result in an eventual erosion of trust between Kompany and his employers, one of Europe's best defenders will have no shortage of suitors queuing up for his services.
So if City value Kompany, they may have to allow him - and others - some leeway to fulfil their international ambitions, or risk losing them to more flexible competitors.