OPINION
By PADDY HIGGS
Chief editor - Australia

After a perfect night for football, the barbs pelted down when the rain did not; Underwhelming and uninspiring, idealess and incompetent.

Michael Thwaite was too slow; Brett Holman was trying too hard; James Holland had left his passing radar in Austria; Holger Osieck had got his selection wrong again.

In the wake of Australia's 2-2 draw with Oman in World Cup qualifying on Tuesday, all these comments came from those with an invested interest in the Socceroos - from the studios of Fox Sports to the feeds of social media. So, as right as much of that analysis was, it was also shaded with passion.

Except the thoughts of a Finnish friend mid-way through the first half, taking in a first-ever Socceroos game: "They need more innovative play."

It was as true as any observation surrounding Australia's 2-2 draw with Oman. The Socceroos finished their first half with 69 percent of possession - a figure that only increased after the break.

But chances were scant in that first half, and only came in the second as the Socceroos' desperation took over and they began to attack with far less consideration to what would occur if they turned the ball over.

The Socceroos may be more resolute than stylish in defence and more industrious than inventive in midfield, but it is a formula that guided Australia into the Round of 16 of the 2006 World Cup and a host of memorable results since.

But the current side also relies more on the goals of one player - Tim Cahill - than is healthy for any nation harbouring ambitions to not only make the World Cup finals but to perhaps progress out of the group stages.
Thus, leaving the creativity of the entire starting XI to one player was both unfair of Holger Osieck and unfair on Robbie Kruse.
If Fortuna Dusseldorf attacker Kruse was not gliding past defenders in red and white he was drawing fouls from them, and he would have woken up feeling double his 24 years this morning.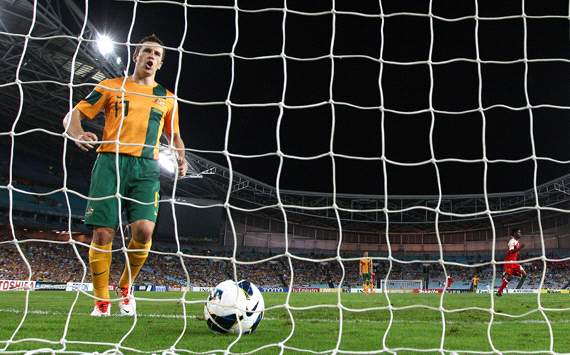 Socceroos left-back Matt McKay reacts after Oman score their first goal in the 2-2 draw.
Osieck's dictum since taking the Australian job has been the establishment of bedrock upon which he can rely, and when captain Lucas Neill returns for June's crucial qualifier with Japan, the German will have a great slab of that back in place.
Defensive midfielder Carl Valeri, too, could find himself rushed directly back into the XI - despite his struggle for playing time at club level - after Holland's off-colour performance.
But Kruse cannot continue to be the only option offering Cahill support, particularly if Alex Brosque's struggles to re-discover the form that made him an Osieck favourite continues.
Osieck has his critics - key in #holgerout on Twitter to see exactly how many.
He will care not a jot, and maintaining that foundation to his XI will remain Osieck's maxim for as long as he patrols the technical area for Australia.
But innovation is the spark of change, and Osieck must surely know now that the latter is just what is needed if the Socceroos are to reach Brazil.