OPINION
By CESARE POLENGHI
GOAL.COM MANAGING EDITOR - ASIA

"It would be easier to pack up and leave [to another country]," said Antonio Conte in the press conference that followed the game won by Juventus in Bologna.
"As our bus pulled into the stadium, there were people holding children in their hands, and at the same time cursing against us. Similar things happened in Florence and Naples: spitting, throwing sticks and rocks. What's going on here?"
Juventus' helmsman and his supporters feel officially under siege. On the Covo Bianconero ('Black and white cove') forum, for example, one can read the following statements of support for Conte: "If you leave, please bring the whole club with you, let's migrate to [France's] Ligue1!"
Juventus are undoubtedly the most successful club in Italy in the last two seasons, now on their way for a second successive scudetto. They are also the only Italian team in the Champions League best eight. This, according to Juve supporters, despite being discriminated throughout the season.
The list of alleged injustices is long. Here is a selection of what the Juventini are complaining about:
- Antonio Conte was suspended for four months, supposedly for failing to denouncing match-fixing when he was Siena's coach. He was condemned when one witness, Filippo Carrobbio, turned him in. However, more than 20 witnesses denied the facts.
- Juventus were involved in several controversies during Serie A games this year, and, as it usually goes, they were favored at times, and damaged on other instances by referee mistakes. What bugs supporters is that those who have allegedly 'helped' Juventus against Parma, Catania and Inter were suspended respectively for six, three and four rounds. On the other hand, referees guilty of macroscopic mistakes such as those seen in Milan-Juventus, Juventus-Sampdoria, Juventus-Genoa and recently Napoli-Juventus have not been penalised in any way, but were sent back to work the following round.
- Juventus are the club that have been punished the most for the behavior of their supporters, with a total of fines amounting - as of February 26, 2013 - to €233,000. Other clubs have met much more lenient judgement, regardless evidence of extreme behavior. Lazio, for example, despite being disqualified in Europe because of their well-known anti-semitic supporters, have been charged only a mere €32,500.
- Several times during the season, rival ultras have 'celebrated' the Juventus supporters who have perished at the Heysel tragedy of 1985. The most common sight were banners or t-shirts sporting a lugubrious '-39' - the number of Juventus fans who died in the event. Just this past Saturday, Bologna supporters showed on their terrace a huge banner that read: "[...] Juventino, you belong to a cemetery". The reaction of the media to such behaviors has been mild at most, and no club has so far openly condemned directly their supporters for such behavior.
- The media often stigmatised Juventus players' words in order to create unneeded controversy. For example, the words of Claudio Marchisio ["I feel something special when I play against Napoli,"] was quickly misquoted and turned into a campaign against the 27-year-old midfielder. It escalated into the production of a downloadable application produced by Napoli supporters, in which one can 'Beat Marchisio', digitally deforming the players' face by hitting him on the face.
- Juventus received no help from the federation regarding scheduling. Cesare Prandelli called five Juventus players and fielded Andrea Pirlo from the first minute in February's friendly against Holland, just ahead of Juventus bout with Fiorentina and their crucial trip to Glasgow to talk on Celtic. The following week, despite the Old Lady playing a Tuesday away game in the Champions League, their next Serie A round in Rome was scheduled on a Saturday.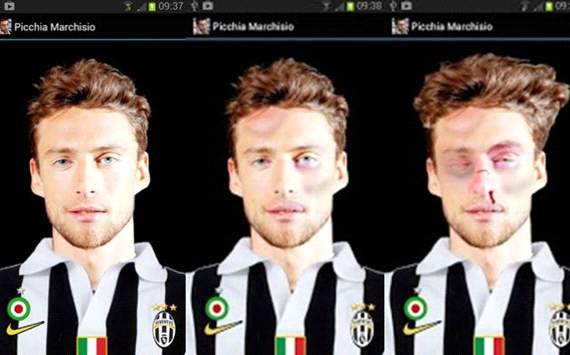 'Beat Marchisio' - another instance of the level of hate aimed towards Juventus.
Thus Juventus' supporters go as far as crying for a move to another league. It is clearly a hyperbole, but how much would that eventually cost to the Italian League?
According to a recent survey, 28 percent of Italian supporters are followers of Juventus. During the 2006-07 season, when the Bianconeri were relegated to Serie B, the number of average spectators at a Serie A game dropped from the previous year's 22,476 to 19,711. In 2007-08, after Juventus' return to the top flight, the average was up to 23,887.
It is unlikely Conte and his players will move to the French league, but there is no doubt that Italian football will be horribly damaged by a hostile Juventus. They are the most popular club in the country, the one that is obtaining the best results at home and in Europe and that is leading the financial reform of Italian football.
Some of the supporters accusations might be exaggerated, and Juventus fans themselves probably are not completely innocent. But be that as it may, when rivalry turns into hate and violence, there is really little to earn for a league that already faces serious problems and find itself slowly sliding away from the top quarters of European football.
Conte himself, with his fanatical passion, might be playing an unwilling part in the exasperated situation, but his simple words should make all Italian football supporters think: "We're not at war. This is a sport."