OPINION
By ADRIAN HOUGHTON


Luis Suarez is undoubtedly Liverpool's new talisman, but the man who preceded him has undergone a remarkably successful transition under the stewardship of manager Brendan Rodgers.
The world's first vision of Steven Gerrard was a shy, skinny and apprehensive kid tucking his long-sleeved shirt in and looking increasingly nervous as he took the first steps towards being a Liverpool regular.
It was late in 1998 and the Reds were faltering; a League Cup in 1995 represented the only piece of silverware the club had won in the past five years.
Disgruntled fans were in need of a saviour and predatory striker Robbie Fowler - nicknamed 'God' – tried valiantly to lift the team, but could not provide the grunt and guile the team desperately craved.
Enter the all-action, end-to-end, box-to-box, whatever-fits-your-description youth academy product with a passion for the city of Liverpool and the game.
In April, 1999 - Gerrard's first Merseyside derby, having come on as a late substitute in replace of Vegard Heggem at right-back - the Liverpool goal was beset upon by a tirade of Everton pressure.
Gerrard would make not one, but two stunning goal-line clearances as those in Red celebrated in great relief at the miraculous intervention of the Whiston-born teenager.
It was the beginning of a profound love affair for Liverpool supporters and the journey of one of the game's most versatile players.
He is, of course, a man who has forever declared his unconditional desire to play central midfield. Only now, there is a twist.
Gerrard is playing a much deeper role, in stark contrast to the 2008-09 model that took the word 'dynamism' to new levels.
While the No.8's trademark burst of speed has been hampered due to recurring groin problems, the altered version is just as effective.
For all the good qualities the man possesses, one could argue patience had never been one of them - see the discontent and negativity that ensued when Rodgers decided to deploy the aging England international in a defensive minded role.
The occasional surge forward, unnecessary 60-yard Hollywood pass and outrageous shot - albeit from a man who has a knack to pull off the near impossible - were symptoms of the captain's game. It led to suggestions he was struggling to cope with the pragmatism of Rodger's tiki-taka football.
How silly those doubters of England's once-in-a-generation player have been made to feel.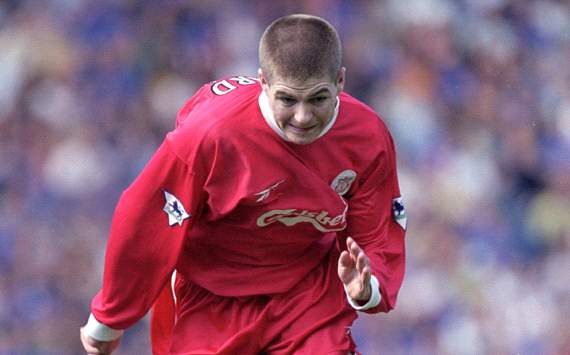 Gerrard's affinity with Liverpool's fans began almost immediately.

The synergy struck up between the manager and captain appears to have had a significant bearing in Gerrard's diligent play.
While the audacious mindset of Gerrard still wants to go on a customary marauding run, which he still has done on occasions, the body is better served to conserve energy.
Soon to be 33 in May, prolonging the career of this man is vitally important.
Having a player of his calibre and experience in the ranks for as long as possible will do nothing but aid the growth of a promising squad.
Rodgers has proved himself to be just as astute in man management as he is in tactical awareness.
Gerrard appears to have heeded the directive to play a behind-the-scenes role and it is paying huge dividends for the club, even if the fans are guilty of being clouded by the wizardry of Uruguayan hero Suarez.
Gerrard has played every single minute of Premier League action this term.
It is a truly remarkable feat for the veteran and, after debilitating injuries, Rodgers is ensuring the longevity of the club's influential leader.
He has scored nine goals and provided a league-high nine assists this campaign from his deep-lying position.
It is not dissimilar to the way Sir Alex Ferguson has modified the game of midfielder Paul Scholes to allow him to dictate the play from his own half.
There was speculation Gerrard was past his use by date.
But no an extra three, four or maybe even five years can now be envisaged for the Kop legend with the Reds.
Known as one of the greatest players to never win a league title, it may allow Gerrard a fitting opportunity to achieve that elusive dream.
Goal Australia now has its own

and

account, so for all the latest news and features on Australian and world football follow us by clicking on the above links.