OPINION
By DEJAN KALINIC


Moments – sometimes prolonged – of brilliance had prematurely made the Melbourne Victory premiership contenders.
But after being handed a 6-2 thrashing by the Central Coast Mariners on Saturday night, their chances of finishing top are over.
Ange Postecoglou needs time, just as he did after losses in the opening two rounds against the Melbourne Heart and Brisbane Roar.
Grasping the former Roar coach's style, tactics and game plan was always going to be a challenge, and the Victory have at times achieved the feat.
Against the top three, however, they have taken just eight of a possible 27 points, including losing their past three.
Arguably Victory's best performance of the season came against the impressive Mariners in Tasmania, where they were unfortunate to only draw 1-1.
It was a vastly different Victory at a soaked Bluetongue Stadium on Saturday night, with five changes to the starting 11 from the encounter in Launceston.
Archie Thompson (hamstring) is the biggest of the five, while Nick Ansell (groin) is close behind.
Marcos Flores (quad) was decent in the Apple Isle but his form has been poor and he needs to improve late in the season.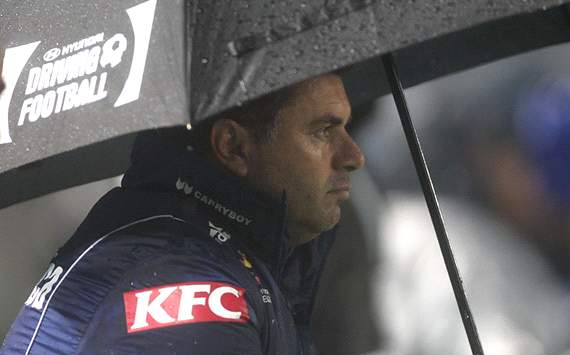 Postecoglou had the Victory fans dreaming of instant success, but he needs more time - just as he did at the Roar.
What the top two could fear in the finals is a red-hot Victory, who have a dream run home.
Newcastle, Brisbane, Sydney, Perth and Wellington – barely a list that will frighten Postecoglou and his men.
But only a Victory with momentum behind them can trouble the top two of the Mariners and Western Sydney Wanderers.
Despite looking a much better outfit than in previous seasons, the Victory still appear at their most dangerous on the counter-attack.
Mariners coach Graham Arnold said as much after his side tore about a woeful Victory defence time and time again in Gosford.
He said: "They are so dangerous in transition and the way they go forward you have always got to be on your toes.
"They are most dangerous when the opposition have the ball. I know it sounds funny but when the opposition have the ball it is the time they can hit you on the break and hurt you."
With players like Marco Rojas and Thompson at your disposal, counter-attacking is explosive and dangerous.
But it is unlikely to win out against the organised and structured efforts put in by the Mariners and Wanderers on a weekly basis.
Postecoglou's half-season at the Roar when he arrived at Suncorp Stadium in October 2009 was poor, but their second was outstanding.
On Saturday night, Tony Popovic's Wanderers will be aiming for an A-League record-equaling eighth straight win.
In what has already been a remarkable debut season, victory over the Mariners would both equal the record and set them on their way to claiming the premier's plate.
Unlike Postecoglou, Popovic has a strong squad and his system works so well he can make changes to his starting side every week and still be better than competitive.
Eight matches is a record set in 2006 by the Victory, who on Sunday will be hoping to avoid a club record fourth straight loss.
Expectations have been tempered on the back of three straight losses and Postecoglou needs time – even if his side ultimately fly into the grand final.