OPINION
By CESARE POLENGHI
Goal.com Asia Managing Editor

In the 31st minute of Roma-Juventus, Francesco Totti stamped his studs onto Andrea Pirlo's knee.
It was indeed a rather violent foul, though clearly Roma's captain was more caught up in the energy of a very fierce game, rather than willingly wanting to hurt a long-time comrade with who he had won the 2006 World Cup.
Pirlo had to leave the pitch for several minutes, but was able to return to the game, albeit clearly in pain. Totti, who was shown a yellow card, went on to score the goal that decided the game and probably ended up being the best player on the pitch in a glorious night for Roma.
The result, 1-0 for the home side, could have sparked a series of very legitimate and compelling questions. For example: "Considering Juve's poor performance, is the Italian championship still very open?". Or; "Do Juve have enough 'depth' in their squad to stand a chance in both the Champions League and Serie A?". And also; "Considering how good Roma looked in this game, how culpable is Zdenek Zeman for their unsatisfactory season so far?".
There was not much talk of the above, however. Most of the discussions between supporters across Internet forums and, I assume, Italian bars, offices and schools, gravitated around one single topic: Totti's foul and the referee's decision to punish it with 'just' a yellow card.
Juventus fans are in no doubt: The Roma captain's stamp was a dangerous and violent play that could have seriously injured Andrea Pirlo. It should have been a straight red card and without their captain Roma would have never won the game. Fouls like this should be an automatic sending off as is seen in other European leagues. We have for example, seen it on many occasions this season in the English Premier League.
The Roma faithful, however, insist that the foul was accidental and Totti was simply trying to snatch the ball. The fact that 'Il Capitano' meant no evil was made clear by his reaction; he immediately hugged Juve's skipper and he even kissed him on the head to apologise.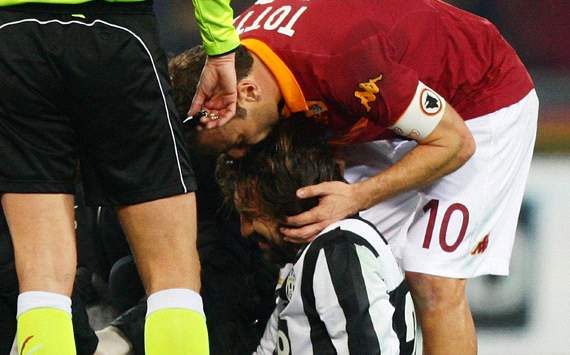 Too late to apologise, after all the harm is done?
Both arguments are equally valid, but what I find interesting is the attempt to crystallise a whole game into a single incident that, after all, was not that decisive. Pirlo ran out of steam along with the rest of his team-mates, not because of Totti's foul, but because Juve were in need of recuperation after their successful trip to Glasgow three nights earlier. Equally, Roma managed to create more scoring opportunities and deservedly won the game.
There is no doubt that had Totti been sent off it would have been a massive blow for the giallorossi, but it is also true that just a few weeks ago at home Juventus played 60 minutes with eleven men against Sampdoria's ten and still allowed the Genovese to score two goals and turn the game around. Numerical superiority on the pitch does not necessarily result in a victory.
Moreover, referee Gianluca Rocchi's decision is, in my eyes, rather understandable. He likely read Totti's foul as a result of his eagerness and detected there was no intention to harm the opponent.
Italian referees tend to be lenient when it comes to judging 'top-players', especially when they are athletes renowned for their human qualities. Totti's 'spitting days' are behind him and in later years has become the symbol not only of Roma, but also of a player who sticks with his club despite difficulties and poor results.
Italians call these players 'la bandiera', ['the flag', or 'the banner'] as they represent values that are often forgotten in today's corporate football. It should be no surprise that referees too have a soft spot for them.
Yet, it is peculiar how most Italian supporters seemingly prefer to get involved in petty arguments, rather than appreciate what was all-in-all a very intense and enjoyable game. The lack of appreciation for football proper and poor sporting culture is a problem that mars Italian football and prevents its growth. Sinking into controversial details detracts from the appreciation of the sport and results in a hysteria that does very little to promote Italian football.
Equally [or more] controversial events have taken place several times in the Premier League this season but common sense prevailed and journalists and most supporters resisted turning them into glamorous occurrences which consequently adds interest to an already very popular league.
Italian supporters and media would do better to upgrade to a 21st-century vision of football, where results are discussed for what is seen on the pitch over ninety minutes and not through the one-sided dissection of single incidents.