OPINION
By CESARE POLENGHI
Goal.com Asia Managing Editor

The rivalry between
Fiorentina
and
Juventus
dates back at least to the 1981-82 season, when the
bianconeri
snatched the title in the last game. The enmity turned into something that can be only labeled as hate in the summer of 1990, when the
Old Lady
poached Florence's favourite son, Roberto Baggio.
Since then, each game between the two clubs has invariably been a tense affair. Over the years, Fiorentina's supporters alternated humourous gags [such as in the past season, when thousands showed up at the stadium wearing a wig making fun of Antonio Conte's transplanted hair], to appalling remarks about the thirty-nine supporters [most of them Juventus fans] who perished in Bruxelles in 1985 in the infamous Heysel Stadium Disaster.
On Thursday, two days before the game, Antonio Conte attempted to tune down the tension by saying that he did not feel any particular rivalry against Fiorentina. Alas, the Florentine immediately deciphered Juventus' helmsman comment as an insult.
Things went from bad to worse when a clip posted on the Juventus' official YouTube channel probably involuntarily sparked a row.
In the clip, the narrator told how "Fiorentina started their season heavenly [meaning with very good results], are now in purgatory [after a few highs and lows recently], and might find themselves in 'inferno' as they visit the Juventus Stadium."
"All hope abandon, ye who enter in [the Juventus Stadium]," concluded the commentary.
This witticism was inspired by the Divine Comedy, possibly the most popular Italian book, written by the Florentine immortal author, Dante Alighieri in the XIVth century.
But the Viola's vice-president, Andrea Della Valle, did not take the joke jovially, and made it clear through the press that such narration showed how low Juventus' style as a club has fallen in recent years.
However the game went by without any major controversy. Yet, on the stands, Fiorentina supporters took their personal revenge, shouting ghastly slogans that mocked the victims of 1985.
It did not end there, as bad sportsmanship moved down to the pitch. Fiorentina's goalkeeper Emiliano Viviano was allegedly displeased by seeing Borja Valero walking towards the Viola supporters carrying on his shoulder a Juventus uniform that the Spanish midfielder had swapped with Pirlo.
Without consulting with Borja Valero, Viviano unceremoniously picked the black-and-white jersey from his team-mate's shoulder, and threw it onto the ground.
He later apologized and explained that he meant to "save Borja Valero [from being insulted by his own supporters for swapping the uniform with a Juventus player]".
This crescendo of episodes underscores once again the hysterical atmosphere that permeates Serie A in recent years. And sadly, distress was not confined to this game.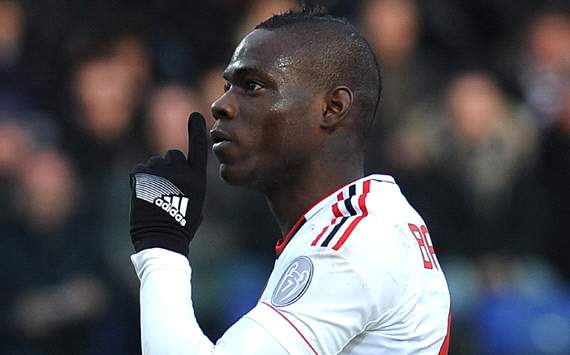 Shut up, just shut up!
On Sunday Mario Balotelli, who at Cagliari scored his third goal in two games, found no better way to celebrate than by sticking his pointing index finger in front of his nose, suggesting the local supporters to "shut up".
Inter supporters in Milano, quite a few hundreds of kilometers from Milan's game, 'greeted' the return of Balotelli to Serie A by singing the hateful tune: "There's no such thing as an Italian negro" during their home game against Chievo.
Juventus' supporters, too, found the time to deliver some discriminating insults against title-rivals Napoli.
As if a vice-president, players and supporters misbehaving was not enough, it was then the turn of a manager. In Genova, Sampdoria's Delio Rossi was allegedly insulted by Roma's Nicolas Burdisso, and opted to reply by showing to the Argentinean the middle finger.
Truth be told, the Italian media are finally taking notice of these depressing events, and perhaps because of the reports, some punishments were meted out by the football federation.
But surely it was not enough to balance the series of anti-sportive display seen in stadiums. What is missing is a real discussion on these inconvenient facts, that are not isolated episodes, but by now a depressing routine that most seem to accept passively.
If Italian football wants a shot at once again holding the tag of 'The Most Beautiful Championship in the World' - the way Serie A was unanimously labeled in the nineties - players and clubs cannot keep their head in the sand any longer.
Anti-sportive behaviour should be met with a zero-tolerance policy, and clubs and players should stand united to fight in order rescue a league that it is seriously at risk to lose what's left of its credibility.
How do you stay up with football when on the move? With http://m.goal.com –your best source for mobile coverage of the beautiful game.