OPINION
By JONATHAN COOK


Perth Glory fans had been shouting for weeks, or even months, for Ian Ferguson to walk the plank in the hope that the formula of years gone by would suddenly produce very different results.
'Sack the coach' has been the popular refrain in Perth since before the A-League was formed. It is popular in other parts of the world, too, but it has resonated loudly in Western Australia, where calls for someone's head often come with little thought for whose should replace it on the chopping block.
Even the club's most successful coach Mich d'Avray, now technical director at South Africa's Bloemfontein Celtic, did not avoid the scathing criticism of a small section of the Glory army during his reign.
Some of them questioned his position after a 6-0 thrashing by Parramatta Power in 2003. There was never any doubt d'Avray would stay and five months later he and Glory were wrapping up a second National Soccer League title.
When he eventually departed, success went with him.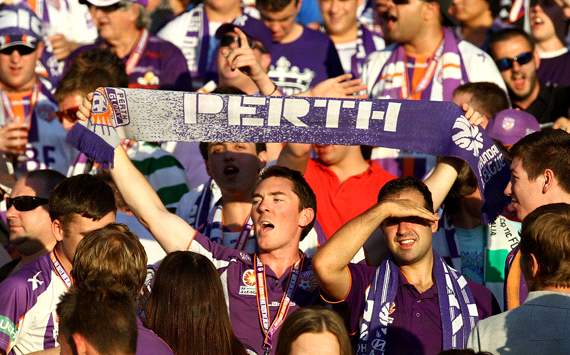 Ardent they may be, but Perth Glory fans can be just as fickle
Calling for a coach to be dismissed remains irresistible to some disgruntled Perth fans, who are now so used to unrest in the west that last season's grand final appearance was dismissed as an aberration.
Given results this campaign, they might have been right to wonder how the team got so close to the famed toilet seat.
But sacking Ferguson alone is not the answer to Perth Glory's ills, just as ejecting the man from the club's hot seat has failed in the past.
Former Liverpool midfielder Steve McMahon, respected coach and analyst Ron Smith and ex-Australia striker Dave Mitchell were all given the bullet in the hope that some sort of magic elixir would appear from the ether.
It did not. That is because sacking a coach is always unlikely to lead to improvement without careful consideration of the next man in, which is why Glory's appointment of Alistair Edwards on an interim basis might be the catalyst for longer term improvement.
| | |
| --- | --- |
| | [Edwards] understands parochialism, passion and the need for the local football community to have reason to start turning up to games again |
Club owner Tony Sage says he will conduct a "worldwide search" for a permanent coach to take the reins at the end of the season.
But he has not dismissed the possibility that the solution could already be in WA, whether it is Edwards, his assistant Gareth Naven, National Training Centre coach Kenny Lowe or a face plucked from the State League.
In recent years, Perth's parochialism has provoked anger at the steady flow of talented locals heading interstate or overseas without getting a chance at Glory.
Edwards, born and raised in WA, understands how that dynamic must be changed. He understands parochialism, passion and the need for the local football community to have reason to start turning up to games again.
He also understands that using local talent might be a start, but only better football and improved results will keep him in the coaching frame beyond the current campaign.
Jonathan Cook was football writer for The West Australian newspaper for 17 years. He covered Glory's highs and lows for 15 seasons. He also reported on two World Cups, three Olympic Games and two Commonwealth Games.