By

DOUG BOOTH
Old Soccer

For a man who has played at the Nou Camp in the UEFA Champions League, Danny Hay is enjoying his hands-on, grass-roots role in his native New Zealand.
Hay, 37, is in charge of the football academy for players aged 12 to 15 at the prestigious Sacred Heart College in Auckland.
It is a challenging position which the former Perth Glory and Leeds United defender is not only thoroughly enjoying but also proving successful in.
Hay has been involved with the college for almost five years and, in that time, Sacred Heart have progressed from playing in Auckland's third division competition for schools to New Zealand champions.
"We won the national title last year for the first time in the college's history," the former All Whites centre-back said proudly.
It is a far cry for Hay, whose playing career was decimated by injury, including seven groin operations.
He is best remembered for signing with English giants Leeds United, even though he made only four appearances for the Yorkshire club, from 1999 to 2002.
But two of the appearances would feature prominently in any football legend's profile.
One of those was when Leeds received a 4-0 thrashing by Barcelona in the Champions League in September, 2000.
"Playing at the Nou Camp was a special moment," he recalls.
"But the defeat was hard to take. The fans deserved better. For the club to fall as quickly as it did [from the semi-finals of the Champions League to League One by 2007] still hurts.
"The potential for success was huge with the majority of the squad that Leeds had put together costing very little."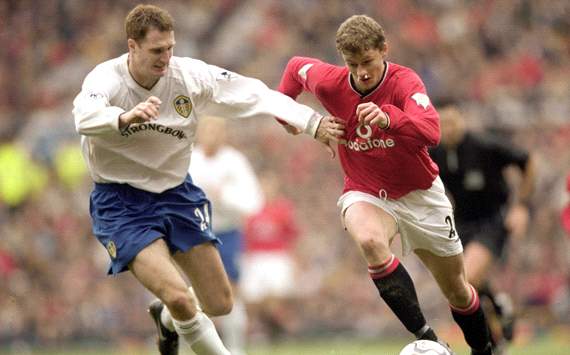 Hay [left] battles Manchester United star Ole Gunnar Solskjaer while taking on Manchester United for Leeds in 2000.
But several months later, the pain of the Nou Camp would be forgotten when Leeds beat Liverpool 4-3 at Elland Road in the Premier League, with Australian striker Mark Viduka scoring all four.
Hay was a 16th-minute substitute for the injured Jonathan Woodgate, and was on the pitch for all four of the Australia international's goals.
These days, Hay - having finished his playing career with Waitekere United in his homeland in 2009 - is determined to ensure the emerging talent in New Zealand are aware of the rigours and the pitfalls of the modern game.
One of the graduates from Sacred Heart College is midfielder Tim Payne, who only turned 19 earlier in January but is on the books of England Championship club Blackburn Rovers.
Payne signed a two-and-a-half year deal with the then-Premier League club after impressing at the Fifa Under-17 World Cup in 2011 in Mexico.
Hay said he noticed Payne's potential when he first watched him play as a 14-year-old at the Sacred Heart College.
"He is the best young talent I have seen in my time at the college," Hay said.
"His brother, dad and grandfather were all students at Sacred Heart but his potential stood out immediately.
"[Tim] has pace, power and is good on the ball," Hay said of his former charge, who has already made four seven appearances for the New Zealand national team.
Hay himself made 31 appearances for New Zealand, including a stint as captain.


"For [Leeds United] to fall as quickly as it did still hurts."



- Danny Hay

Other young players to come through Hay's academy include Wellington Phoenix youth team player Thomas Doyle and New Zealand Under-17 representative Stephen Carmichael.
Hay is a regular visitor to Perth, his wife's home town. Hay also spent 2006 with the Perth Glory, and admits to being disappointed with the club's disappointing A-League form this season.
"On paper, they are the best team in the league but they have been so hit and miss," he said.
"But the A-League is such a close competition that it would not surprise me if they staged a late surge for the play-offs like last season."
One thing is certain for Hay; he is not yet looking at turning to coaching an A-League side, despite his impressive credentials with college football.
"I am really happy doing what I do, but you should never say never," he said.