By

DOUG BOOTH
Old Soccer

Danny Milosevic is a name that was on the lips of many Australian football fans in the past decade, sometimes for reasons that he would not have preferred.
But the former Australia youth goalkeeper is determined to clear up some of those misconceptions about his playing career, revealing to Goal.com that he battled depression at the height of his career in the United Kingdom.
Milosevic is hungry to give back to the sport that gave him so much and promised even more before a mixture of injury, personal reasons and depression prematurely curtailed a potentially lucrative career.
The shot-stopper, who figured in the Champions League plans of European powerhouses Leeds United and Celtic early last decade, is keen to develop the grass roots of football - in particular goalkeepers - through his company One2One.
Perth-based Milosevic is taking 12 teenage goalkeepers to England in early January to show them first-hand the joys and pitfalls of being a professional footballer at the elite level.
"I am trying to find the next generation of Australian goalkeepers," said Milosevic, who is a part-time coach with Football West's National Training Centre in Perth and has also developed his own range of goalkeeping gloves, Xsentr1q.
"We fly into Manchester on January 13 and have a week in northern England before heading to London."
The two-week itinerary will take in stops at Leeds United, where Milosevic spent more than four seasons, as well as visits to Manchester City, Mark Schwarzer's Fulham and Adam Federici's Reading.
Milosevic is also eager to share the mental issues he developed initially at Leeds and then at Celtic.
"I feared playing and failure. I feared being judged by people and letting them down," he said.
"I did try and get help in the UK but all they wanted to do was put me on tablets for the depression. I needed more than tablets.
"[The depression] floored me. All of a sudden I felt the weight of the world on my shoulders."
His experience with the New Zealand Knights heightened his anguish, having signed a three-year contract with the former A-League club in 2005.
"The club went into financial meltdown and I moved back to Perth. I ended up having 10 sessions with a psychologist and it helped," he said.



"I did try and get help in the UK but all they wanted to do was put me on tablets for the depression. I needed more than tablets."




- Danny Milosevic

Now retired, Milosevic wants to pass on his experiences, both on and off the field, in a constructive way during the UK tour.
"Young people have massive stars in their eyes but this will enable them to experience life at a professional club," he said.
"Football does not owe me anything but I have learned a lot of things which I want the next generation to find out about.
"By educating them early in what they can expect hopefully will open doors for them. Football cannot be handed to you - you have got to earn the right."
Milosevic is especially keen to make contact with first-choice Australia international and Fulham goalkeeper Schwarzer, who he describes as the supreme professional.
"We used to catch up when Mark played for Middlesborough and I was at Leeds," recalled Milosevic, who believes Schwarzer is a long way from hanging up his boots.
"Mark can go on playing for as long as he likes. His fitness and his mental strength have never been better."
Australia are well placed, Milosevic agrees, for goalkeepers, with Schwarzer, Federici and Liverpool's Brad Jones among the favourites to fill the three Socceroos' goalkeeping positions at the 2014 World Cup in Brazil.
It may now be hard for many to believe, but Melbourne-born Milosevic was rated by Fifa as one of the world's best goalkeeping prospects when he was in his late teens.
His skills had come to prominence at the Under-20 World Cup in Malaysia in 1997, when he played alongside the likes of Vince Grella and Brett Emerton with the Young Socceroos.
One match, in particular, caught the eye of talent scouts.
Then with Perth Glory, Milosevic played a starring role as Les Scheinflug's charges produced the shock of the tournament to defeat the mighty Argentina 4-3.
Walter Samuel, Esteban Cambiasso and Juan Roman Riquelme were just three teenagers in the Argentina team who were destined for long careers.
But it was Milosevic's brilliant stops in one-on-one situations against Diego Quintana, not one save but three, that earned him serious attention.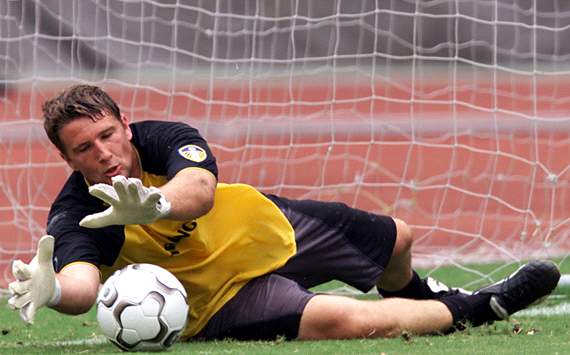 Milosevic in training with Leeds United in 2002.
Eventually, Milosevic signed with Leeds United, where he spent four seasons. But a combination of injuries and the fact that Nigel Martyn and Paul Robinson were ahead of him in the pecking order at Elland Road meant he never made a first-team appearance.
"Terry Venables was the Leeds manager in 2002 and he said I could be No.2 because Nigel was looking to move on," Milosevic recalled.
"But Venables was sacked and Peter Reid took charge.
"He was a bully and I spoke to the PFA [Professional Footballers Association] about him. I was told, 'If he does not like you, he won't pick you'."
Milosevic went out on loan to a variety of clubs, including Crewe where he broke his wrist after 40 minutes of his first match.
In 2004, then-Celtic manager Martin O'Neill wanted to sign him but he was offered a one-pound-a-week contract.
Shortly after, Milosevic's father, Zoran, was diagnosed with a heart condition in Australia.
"I was told he had a year to live so I packed my bags and headed home," Milosevic said.
"My career did not pan out. With the right frame of mind I am sure it would have been different."
Aware of that fact, Milosevic is determined that his new breed of custodians will be as prepared as they can possibly be for the challenges and rigours ahead.