OPINION
By ADRIAN HOUGHTON


Simulation has been a hot topic of conversation this English Premier League season, with 19 yellow cards brandished by referees thus far for the offence.
Despairingly, one of the league's brightest attractions, Gareth Bale, is at the forefront of the contentious issue.
The Tottenham Hotspur winger burst onto the scene as a prodigious talent and one for the future.
Now, at 23 years of age, instead of revelling in his devastating wide play, a disturbing element has crept into his game - diving.
Bale has seven yellow cards already this term and four of those bookings for simulation.
Two blots on his copybook came within four days of each other.
In his side's victory against Liverpool - spearheaded by the Welshman's brilliance - he was booked for a blatant dive.
Then, on Saturday, another card was presented to Bale after he took a tumble that appeared a tad harsh, after replays confirmed a slight touch from Fulham midfielder Steve Sidwell.
However, the theatrical fall from the player suggests a bigger problem.
Whether it warranted a yellow card or not is irrelevant; it is undeniable the Spurs talisman needs to curb what is fast-becoming a bad habit.
It is clear when any contact is made, his immediate reaction is to take a tumble - the art of staying on your feet does not seem an option for Bale.
The barrage of abuse he has received from the media and fans should be enough for the attacker to eliminate such a flaw.
Bale has received support from manager Andre Villas-Boas and former Spurs midfielder David Ginola, who defended the player's growing reputation as a diver and labelled the talk as "false ideas" and "unfair".
"Football is about entertainment. When you have players like that who entertains you week in, week out, you have to protect that - it's so precious," Ginola told BBC Radio Wales.
His words resonate to a certain degree, but in terms of protection, no player should be exempt from normal punishment for going down without contact.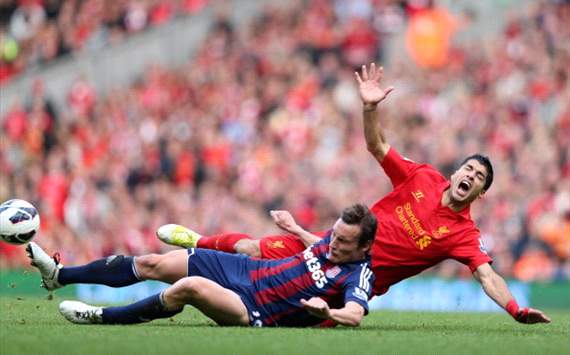 The diving spotlight has moved from Liverpool's Luis Suarez to Bale

Take Luis Suarez's situation at Liverpool - the Uruguayan has two yellow cards for simulation this campaign.
Love him or loathe him, he is one of the league's most exciting players, but controversial in equal measure.
Two months ago, the pantomime villain was experiencing a torrent of scathing attacks after his diving antics against Stoke City.
Since then, the Uruguayan has stayed on his feet and shown almost exemplary behaviour - proof that the habit can be broken.
For Bale, there is no doubt the Tottenham star is in the midst of a potentially damaging period of his football career.
Bale will not find it hard to create positive headlines throughout his career - such is his immense quality - but silencing the negative press surrounding his recent tribulations must be given close attention.
Goal Australia now has its own

and

account, so for all the latest news and features on Australian and world football follow us by clicking on the above links.