ANALYSIS
By ADRIAN HOUGHTON


Week 13 and 14 of Goal.com's EPL Fantasy saw the two Manchester clubs pull away at the top of the table.
With many of their players in ominous form, now is it a great time to try and embed personnel from both sides if managers do not have them already.
It was also a week for the usual suspects to contribute high scoring performances.
The likes of Robin van Persie [£12,180,000], Michu [£10,850,000], Gareth Bale [£12,570,000] and Marouane Fellaini [£14,440,000] were all typically outstanding.
The midweek games may have caught many managers out and they served as a timely reminder to check the fixture list for upcoming rounds.
Note that, over the Christmas period, there will be three rounds in just over a week.
Remember to keep an eye on lockout times, so you can alter your team accordingly.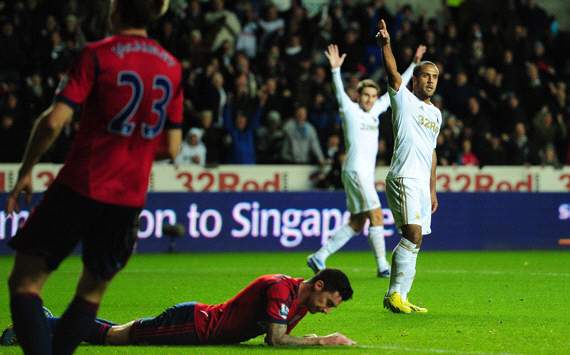 Wayne Routledge – Swansea (30 points)
Scored a brace and is finally beginning to assert himself in the top flight after failing to deliver on years of promise with other clubs – £8,020,000.
Gareth Barry – Manchester City (22 points)
The versatile midfielder was a star performer against a stern Wigan outfit and could prove a Fantasy revelation as the season progresses – £9,570,000.
Christian Benteke – Aston Villa (20 points)
Scored a much-needed winner for the West Midlands club. The Belgian striker has been a shining light in a faltering season for Villa so far –£8,950,000.
* Note scores from Week 14.
Bacary Sagna – Arsenal (6 points)
Usually a strong threat with his overlapping runs from right-back, but has not been able to influence proceedings much in the final third – £6,070,000.
Park Ji-Sung – Queens Park Rangers (4 points)
Seen as a massive coup for the club, but his price decline of £3,440,000 is a strong indication of his poor start with the Rs – £5,330,000.
Jordan Henderson – Liverpool (4 points)
Turned in a dour display against the Spurs and is failing to deliver the goods after his big money transfer to Anfield last season – £5,520,000.