OPINION
By ADRIAN HOUGHTON


It is a formidable record: 242 goals in 524 appearances.
That is a better goals per game ratio than Chelsea's former talisman Didier Drobga.
Higher than South American duo Carlos Tevez and Sergio Aguero
It is even no match for Italian great Alessandro Del Piero.
Who is the mystery man?
Answer: Dimitar Berbatov.
It is true. Believe it or not, the Bulgarian boasts a superior record than the aforementioned players.
It may come as a shock to many, but the statistics do not lie - Berbatov is prolific.
The 31-year-old, who began his career at CSKA Sofia, is perhaps one of the most underrated players to grace the English Premier League.
Since making the switch from Bayern Leverkusen - having scored almost a goal every second game - to Tottenham in 2006, the imposing striker has made quite an impression in English football.
But has he really made much of an impact?
An off-the-cuff answer would garner mixed opinions.
Analysing the statistics, he has clearly had a strong influence in top-flight football.
Two fine seasons with Spurs saw him score 23 goals in each campaign - there was no doubting his quality.
A big-money move to United was greeted as a dream transfer, which ended sourly and subsequently became the period of his career that clouds most fans' judgment.
In 2010-11, he shared the Premier League's Golden Boot honours with former teammate Carlos Tevez, with 20 goals to his name.
But he was still left out of the club's Champions League squad for the final against Barcelona a week after the conclusion of the domestic campaign.
The following season, he was frozen out by the introduction of Danny Welbeck and Javier Hernandez.
Sir Alex Ferguson could be guilty of dealing some harsh treatment towards Berbatov during his time at the club.
But the Scot will not lose sleep over his relationship with his former charge - particularly now he has Robin van Persie in his ranks.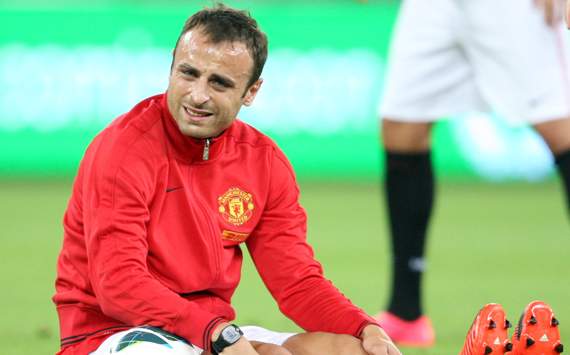 Despite a fine scoring record at Old Trafford, Berbatov's spell at United may be remembered as one that brought him rather more pain than pleasure.
Often dubbed an enigma, he also became the first non-Englishman in Premier League history to score five goals in one match.
While Berbatov has attracted his fair share of column space, he is rarely labelled a star or world-class player.
Playing style and technique are also a key component of appraising any footballer, and no one could deny the verve and guile of Berbatov's play.
He has a gracefulness that any football purist could attest.
Yet the plaudits do not match the scoring record and ability.
Fulham's new No.9 scored a brace and made an assist in a 3-3 draw away to Arsenal.
In the process, it moved his Cottagers record to five goals in seven matches - the impressive ratio well intact.
Manager Martin Jol must be delighted to make have such a tremendous focal point in his side.
He is undoubtedly a massive coup for a promising side.
World-class talent? It is hard to argue against.
Goal Australia now has its own

and

account, so for all the latest news and features on Australian and world football follow us by clicking on the above links.