OPINION
By BREN O'BRIEN


The last time Robert Cornthwaite pulled on a Socceroos shirt, he and his teammates were lambasted as second-rate and unprofessional. This time, he was the star performer as Australia became just the second team in 27 years to defeat South Korea on home soil.
It was a surprisingly mild night in Canberra on March 4, 2009, but the chill certainly set in when then Socceroos coach Pim Verbeek locked his eyes on a bedraggled bunch of A-League players who had failed miserably to uphold the reputation of the locally based players in losing 1-0 to minnow Kuwait in an A-League qualifier.
For Verbeek, it was all the justification he needed to forge onto South Africa 2010 with his established core of stars, and many of those in the squad that night including Cornthwaite, who made his debut with a late subs appearance, have been out in the cold ever since.
How he came out of the metaphoric cryogenic machine for this game is a story in itself. Less than 48 hours before the game against South Korea, he was sitting on his couch expecting another quiet week as a low-profile professional footballer in a foreign country.
Then, after a run of injuries to an already light squad, Holger Osieck was rummaging around in his figurative third draw down when he came up with a practical solution - Cornthwaite. Had this friendly been against anyone else, anywhere else, Cornthwaite would not have been on the German's speed dial. He would have remained on the Socceroos scrapheap.
He certainly looked every bit the bandaid solution when caught out of position when South Korea opened the scoring early on.
One of football's greatest qualities is its ability to offer redemption. For Cornthwaite, it came in the form of a 10cm tap in late in the game, which - according to the player himself - is just the second goal he has ever scored with his foot. So easy was the shot, he could have breathed on it to get it over the line.
Nevertheless, a winner is a winner and the lanky defender, who bore the No.11 on his back but no name, charged off to celebrate as if he had just won the World Cup. It was one of those uncanny and unlikely sporting moments. He had won the game for Australia, albeit a meaningless game featuring two second-string sides.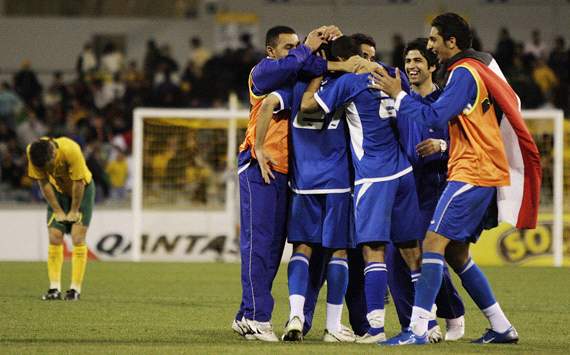 Cornthwaite is one of the few survivors from that disappointing night against Kuwait in 2009, but had to wait over three years for a second chance.
The only other player on the field on Wednesday who featured in that Canberra match was Archie Thompson, a player who knows all about second, third, fourth and fifth chances in the national team.
They could offer a lesson to their younger team-mates in the virtues of patience when it came to national call-ups.
Like the players on that dark day in Canberra, these younger team-mates have dreams of World Cups in their eyes, but their dreams are far closer to being realised under Osieck than Verbeek.
More than any young quartet in recent Socceroos history, Eli Babalj, Matthew Leckie, Aziz Behich and Tom Rogic sparked a sense of real excitement into the minds of fans and even the coach, who seemed genuinely surprised by their impact post-match.
Seeing them on the field together and seeing the way that Babalj and Behich in particular handled the situation gave every indication that these kids, raised on A-League, are ready when needed.
While his selection policies may be seen as conservative, Osieck has always spoken of keeping an open mind, giving a vastly different impression to that of his predecessor
Whether he is as good as his word on this we will find out, but if Robbie Cornthwaite can score a winner for Australia, anything is possible.
Goal Australia now has its own

and

account, so for all the latest news and features on Australian and world football follow us by clicking on the above links.