OPINION


By

DEJAN KALINIC




Champion teams find ways to earn points when not at their best and Central Coast's ability to do just that is not a surprise.
It has been an uninspiring start to the season by the Mariners, but with seven points from four games, they sit third.
A new system - and formation - has contributed, with Graham Arnold's men still struggling to put it together in the attacking third.
Yet, thanks to a neat Daniel McBreen strike against Perth Glory and a quality Pedj Bojic free-kick to defeat Melbourne Heart on Sunday, the Mariners are well-placed.
Central Coast, still slowly adapting to playing two holding midfielders in captain John Hutchinson and Nick Montgomery, have time.
They are afforded such a luxury because of their defence, which continues to be one of the best in the A-League.
Captain Alex Wilkinson's departure was expected to unsettle the Mariners, but Trent Sainsbury has filled the void exceptionally.
Credit must go to regulars Bojic, Josh Rose and Patrick Zwaanswijk, as well as the ever-reliable Mathew Ryan in goal.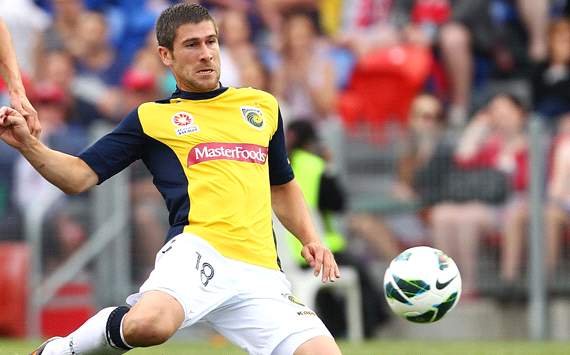 The arrival of Montgomery has been a factor in the tactical change at the Mariners.
Personnel – the signing of Montgomery from Sheffield United – has led to Arnold switching to a 4-2-3-1 from his highly successful midfield diamond and two up front.
With Mile Sterjovski is often forced to play out wide to accommodate the inclusion of McBreen up top, the Mariners lack a cutting edge.
Tom Rogic can only do so much, even if the teenage attacker would undoubtedly love to add goals to his fine repertoire.
Questions surrounded where the Mariners would get their goals from when Matt Simon left in December last year, but they found a way.
Even if there is seemingly no rush, Arnold will find answers again and he has recognised the problems.
"Our transition from defence into attack is letting us down at the moment. We're being a little bit negative when we win the ball at the back," Arnold said after his team's win at AAMI Park on Sunday.

"What we were good at [last season] was breaking forward with the ball and the first pass going forward, moving forward as a unit.

"Sometimes now, at the moment, it's like the first pass will go forward and the second will go back."
Arnold still has work to do and his team must get better, but they will have time if they continue to collect hard-earned points while not at their best.