OPINION
By CESARE POLENGHI
GOAL.COM MANAGING EDITOR - ASIA

The past Serie A weekend opened and closed with two games - Juventus-Napoli and Genoa-Roma - that could not have been more different from each other.
The first, including its physicality, was the epitome of the Italian obsession for tactical perfectionism; the second a festival of flamboyant moments and embarrassing gaffes.
These two matches, out of the mixed bag that is this season's Serie A, brought up several of interesting questions.
Firstly: is the Italian League the most heterogeneous of the European top championships? Which leads on to an ancient question: what is 'good football'? Is it the rock-solid, crunching game played by Juventus? Or the sparkling, fluid - though at times mindless- show put on by Roma on Sunday?
Let us delve a bit into the stories of the matches: Juventus and Napoli squared off on Saturday and for eighty minutes they were overall well-balanced.
The two teams know each other very well, this being their fourth bout since April.
Juve squandered a few good chances, Napoli barely shot toward Marco Storari's goal.
But when Edin Cavani unleashed his free-kick in the first half, he smashed it against the bar - going closer to scoring than Juve ever did for most of the game.
A typical Italian 'big game', it was mostly fought in midfield, with both teams tight and prudent.
Napoli contained Juventus impetus well, while the home side was very careful not to give Walter Mazzarri's men a chance to break away with their lethal counter-attacks.
It was a game of chess, filled with several borderline tackles and exasperate marking in every sector of the field.
Juve won it [their 17th three-pointer out of their last 19 matches in Serie A] in their typical way: They wore out Napoli and finally forced a mistake [poor marking on a corner kick] out of their exhausted opponent.
They then proceeded to kill the contest a couple of minutes later - the sixth time in eleven games this season Juventus has scored multiple goals in a matter of minutes.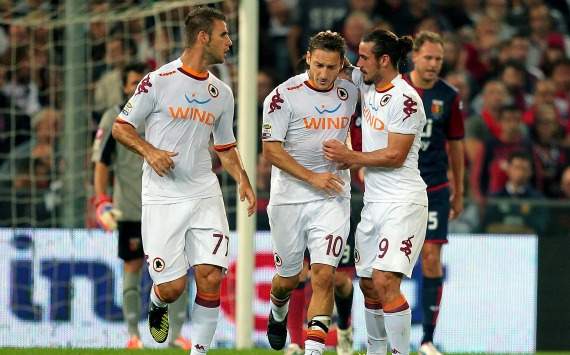 Roma's comeback was the stuff of magic against Genoa.
Roma, on the other hand, started exactly as they did against Juventus a few weeks ago, conceding because of their lack of defensive discipline.
During the act of scoring both goals, Genoa players were free to set up chances and take unmarked shots.
Bosko Jankovic drove the ball home after collecting a rebound when outnumbered three to one.
Zdenek Zeman's team comeback, however, was the stuff of legend.
Led by the last of the romantic heroes of Italian football in Francesco Totti, Roma got into their rhythm and gradually choked the hosts out of the game.
Osvaldo delivered the lethal blow and the other returnees from their time with the national team - Daniele De Rossi and Alessandro Florenzi - carried water for the whole team. I
t was a thoroughly enjoyable game for all - with the exception, of course, of the Genoa supporters.
Perhaps the point is not to pick a 'better' team or to select the best football solution.
What is interesting is to notice how the Italian game has been forced by financial factors to re-invent itself, and how clubs are working their way through survival with different philosophies.
Are we already witnessing the seeds of a new Renaissance for Italian football?
Juventus and Roma might be at opposite ends of the spectrum, but in between there are many other flavours.
Take, for example, the chameleonic Inter: Andrea Stramaccioni probably has not found the final asset but he is gradually tuning out an intriguing team.
Then there are, of course, other realities such as the persistent Lazio, Vincenzo Montella's new Fiorentina and - lest we forget - Napoli, who still deservedly hold on to second berth in the table.
One might think that in an age of little glamour for Serie A, only a biased Italian journalist living abroad might be capable to see this kaleidoscopic variety.
However, my idea is confirmed by words recently spoken by an old friend of Italian football, Diego 'El Cholo' Simeone.
The former Lazio and Inter midfielder, now a successful manager at Atletico Madrid, admitted to be seduced by the diversity of Italian football, something that he thinks should make coaching in Serie A particularly compelling.
Be that as it may, Italian clubs might have empty wallets and still several other problems to solve, but what we see weekly on the Serie A pitches - and also replicated on an International scale by Cesare Prandelli's Azzurri - is still one of the most interesting expressions of the game.
It is terrific to see the diversity one finds across Italy as a country to likewise be expressed in its football.