By

KIERAN JONES


Now is not the time for Arsenal to extend Arsene Wenger's contract.
If anything, the club should be contemplating whether or not to let Wenger see out his current agreement.
News came out during the week that Arsenal are contemplating extending the French manager's contract, despite the fact the Gunners have not won a trophy since the 2005 FA Cup.
Few will disagree he has been a wonderful servant of the club, and none should take anything away from the environment and culture he has cultivated at Arsenal.
But there comes a time where mediocrity can surely no longer be tolerated.
The 6-1 win over hapless Southampton was never going to be a true indicator of where the Gunners are at, nor their 2-1 victory - however impressive - over Montpellier in the Champions League on Tuesday.
Saturday's league encounter against Manchester City at Etihad is more likely to paint a more accurate picture.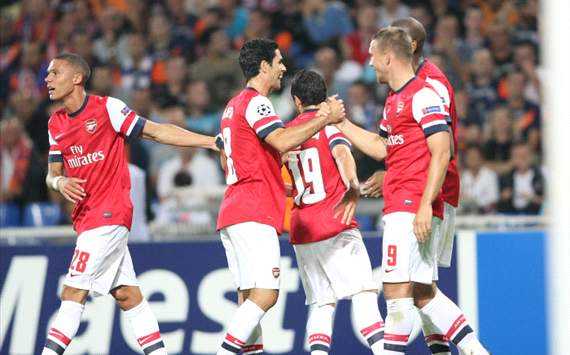 A few positive results should not mean the Gunners rush into offering Wenger a new contract.
Wenger's deal expires in 2014, which will make it 18 years since he first took charge of the Gunners.
Only Sir Alex Ferguson has been at the helm of an English Premier League club longer than Wenger.
But Manchester United are still a force to be reckoned with, and Ferguson has managed to keep most of his good players and sign even better ones.
Arsenal, on the other hand, have seen Robin van Persie, Cesc Fabregas and Samir Nasri walk out the door in the last two seasons alone.
Looming over Wenger at the moment is his refusal to splash out like his biggest league rivals during the transfer window to sign big names.
Because of this refusal, Arsenal are falling behind Chelsea and the two Manchester clubs in both quality and depth.
Olivier Giroud and Lucas Podolski are both good players, but not of the same class as van Persie.
The situation came to a head last season when Arsenal fans were heard chanting, 'You don't know what you're doing'.
If the fans have lost faith in Wenger, then it will surely be the players who lose faith next.
And if the bosses at Arsenal are concerned over spending and want to extract good result through fiscally responsible management, then why not target somebody like David Moyes?
Moyes has taken Everton from being a middle-tier club to being a club which consistently challenge for European qualification.
It does not have to be Moyes, but it also does not have to be Wenger. Neither Arsenal or Wenger would lose any credibility if they parted ways, so why is there a necessity at the Emirates to sign him on until 2016?
After seven years without a trophy it is surely a bad decision to sign Wenger on for any longer.
Wenger needs to find results or Arsenal need to find a new man.