OPINION
By CESARE POLENGHI
GOAL.COM MANAGING EDITOR - ASIA

It is a well-known fact that Juventus is now unbeaten in Serie A in their last 42 games.
The team, led by Antonio Conte and Massimo Carrera, has been depicted as a bulldozer, mercilessly smashing any domestic opposition they have encountered in Serie A since the end of May, 2011.
This description, however, is not completely accurate, and data shows how Juventus' apparent bullying of other Italian teams is a relatively recent phenomenon.
To begin with, of the 42 undefeated matches, Juventus have won 26 and tied 16, meaning that overall victories in fact relate to less than two thirds of their run.
Across February and March 2012, Juve dropped eight points by drawing four successive games.
Back then, Italian journalists accused the bianconeri to have fallen victim to "pareggite" [draw-syndrome], and the title seemed to be on its way to Milan, as Massimiliano Allegri's team - skippered by Zlatan Ibrahimovic - opened a four-point gap at the top of the table.
It is from the game that followed that period where statistics about Juve's Serie A performances become "paranormal", and the Turin club started cruising towards the conquest of the Italian championship.
The wind changed on an evening at the Artemio Franchi Stadium in Florence.
Helped by the opposition being reduced to ten men during the first half due to a red card, Juventus walked over the wreck of a Jovetic-less Fiorentina, destroying the Tuscan side 5-0.
The domination of Conte's army has since then been total.
Counting in the routing of Fiorentina, Juventus' last 14 Serie A games - including three in the current season - resulted in 13 victories and one tie.
The only time Juventus failed to win was in a home game against to-be-relegated Lecce, when an incredible blunder by Gianluigi Buffon allowed their opponents to level the score with only a few minutes left.
In the aforementioned 14 games, Juventus have conceded a goal, as an average, only every 260 minutes.
Besides that infamous goal against Lecce, Buffon and his team-mates picked the ball up from their net on only four other occasions: against Lazio at home [totally against the flow of play], while Alessandro Del Piero was saluting his supporters by walking around the pitch during the "exhibition" versus Atlanta, this season against Udinese [when winning 4-0] and finally last Sunday at Genoa.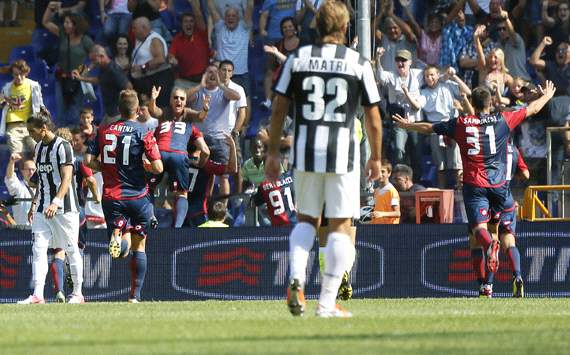 Watching their opponents celebrating - like Genoa's Ciro Immobile did on Sunday - has become a rarity for Juventus.
The goal scored by Ciro Immobile in Genoa was actually the first time in these last 14 games that Juventus trailed at the end of the first half.
There were, however, five instances in which the first half ended 0-0, and once the score was 1-1. In all seven cases, Juve managed to win the game in the second half.
It is, in fact, a simple study of second-half performances that tell us something about this record-smashing team.
The total number of goals scored in the 14 games is 36, but they are very unevenly divided between the two halves. 12 were in fact scored during the first half, and twice that number, 24, in the second 45 minutes.
It seems clear that Juventus outdo their rivals thanks to being in better physical condition and a tactical system that allows them to wear out the opposition before finishing them mercilessly.
On many occasions, in fact, we have witnessed second halves during which Conte's men were still prowling the pitch, while the opposition looked exhausted.
It happened again this on Sunday in Genoa, where the home side put on a very valiant effort for at least an hour [and would have deserved possibly more than one goal], but totally faded out in the last thirty minutes - conceding three goals - as if trying to play at Juventus' level had sapped their energy.
With Juventus now returning to the European stage with their visit to Chelsea on Wednesday, it will be interesting to see if the bianconeri can put on a similarly outstanding performance in London.
This match should also give us the measure of where the top Italian club sits vis-a-vis the European champions.
After that, Juventus will dive again into the domestic league, where they will try to beat the record of the legendary Milan team coached by Arrigo Sacchi, that, between the 1990-91 and the 1992-93 seasons, managed an incredible series of 58 games without losing.