Holger Osieck's reliance on the waning powers of Australia's golden generation appears unlikely to end anytime soon, but is that becoming his side's folly?
OPINION
By BEAU BUSCH


When Australia trudged off a rain-soaked Easter Road stadium after a hugely disappointing 3-1 loss to Scotland on August 15, Socceroos coach Holger Osieck would have known exactly what was coming from the waiting press.
In a forthright response to a questions regarding what changes would be made, the German coach confirmed there would be alterations.
The squad announced for September 6's friendly against Lebanon and the AFC 2014 World Cup qualifier against Jordan five days later - while not proving that Osieck's words were hollow - was far from a signal that he is ushering in the new generation.
If his preference for more experienced players was clearly achieving the desired results it would be understandable.
But some of the experienced players he has come to rely on are forcing his hand tactically to play in a way that is neither positive nor likely to prove successful if Australia do qualify for Brazil 2014.
In the heart of defence, his favoured partnership of Lucas Neill and Sasa Ognenovski forces the Socceroos too sit deep as neither are comfortable playing a high line.
By sitting deep, their ability to press an opponent and be proactive without the ball is greatly reduced.
There is also the issue of both Neill and Ognenovski struggling when coming out of the line to try to break up attacks.
Against Scotland, Ognenovski was continually pulled out of the back four and then exposed in behind by clever movement from the opposing attackers, with Neill struggling to cover him.
This was not solely Ognenovski's fault, as a lack of pressure on the ball in midfield made his task all the more difficult.
But by sitting deep, the ability of midfielders to press their opponents becomes almost impossible, and the space attackers have to come into is also increased.
In affect, by partnering Ognenovski and Neill in defence, Osieck is playing two of the same, something that few successful sides do in central defence.
By partnering either of them with Rhys Williams, Luke DeVere or Matt Spiranovic the Socceroos would have more flexibility.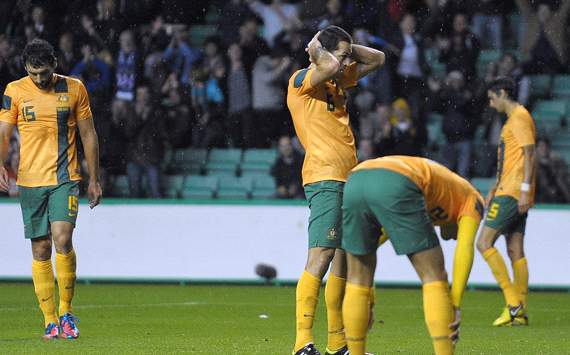 Has Osieck's reliance on his tried and trusted men become his weakness?
Osieck's continued reliance on David Carney has also raised many questions due to his lack of action at club level. Despite having rarely played at his recent clubs when playing for the Socceroos in the past, Carney has performed admirably on most occasions.
But against Scotland, his lack of match practice looked to have finally caught up with him.
Continually caught out of position in defence and attack, Carney looked severely short on match sharpness and awareness.
In attack, he was constantly caught ahead of the ball. He was never able to receive it on the move, forcing him to pass backwards and therefore halting any momentum and making it much easier for Scotland to press the ball. In defence, he offered little cover for the centre backs and was unable to stop crosses into the box.
By playing a more dynamic left-back such as Jason Davidson or Matt McKay, the drive the Socceroos would have from full-back would be greatly increased and an out-ball to play through pressure would be available, rather than what was the case against Scotland.
In the centre of midfield, the re-introduction of Marco Bresciano has been an inspired choice by Osieck, with his passing range and calmness in possession obvious.
To cater for Bresciano's strengths, however, he may be better paired with a more dynamic player than either Carl Valeri or Mile Jedinak.
Neither Jedinak nor Valeri, while extremely competent, offer the type of threat with their passing range or movement to take attention away from Bresciano. If Osieck altered his preferred 4-2-3-1 to a 4-3-3, with Bresciano flanked by any two of James Holland, Adam Sarota, Brett Holman or Matt McKay, the space available to him to be the deep-lying play maker would be increased due to their superior movement.
In the attacking third, the progression of Robbie Kruse at his club and for the national team is promising. His ability to come inside to link-up with a central striker will cause a defence problems, especially if the space he vacates is used by an overlapping full-back.
On the other flank, the need to for someone to stay high and wide to stretch the play is obvious.
Against Scotland, Luke Wilkshire offered little attacking threat, meaning opposing left-back Danny Fox could come forward safe in the knowledge that he would not be exposed.
If someone like Mathew Leckie or Nikita Rukavytsya were used in that position, Fox would have had a much bigger attacking threat to deal with.
Osieck has a balancing act to ensure World Cup qualification is not derailed by blooding too many young players.
But his reliance on the older brigade is moving the Socceroos towards becoming an inflexible and reactive side - two characteristics that offer little hope for Brazil 2014 and beyond.
Beau Busch is a former A-League defender with Sydney FC and North Queensland Fury who spent the 2011-12 season with Arbroath in Scotland's Second Division