OPINION
By Beau Busch
When Australia beat Scotland 2-0 in 2000, it appeared to be an upset.
Twelve years on, however, the result was symbolic of what was to come as the Socceroos embarked on their most successful period, while the Tartan Army became accustomed to failure.
When they meet again on Wednesday in Edinburgh, the Socceroos will be hoping for more of same, while the hosts will be hoping victory provides the spark for a bright new dawn.
Much has changed in the 12 years since they last squared up to each other.
Australia has qualified for successive World Cups and Asian Cups, while Scotland have not appeared at a major tournament.
The Socceroos, ranked 74th by FIFA in 2000, have moved up to 24th in the world, while Scotland has gone in the opposite direction, from 20th down to 46th.
The respective domestic leagues are also vastly different since they last met.
The Scottish Premier League's most successful club Rangers have been forced into liquidation and are beginning the season in the country's fourth tier.
The demise of the Ibrox giants has cast serious doubts over the viability of the SPL, with many clubs struggling financially to fill the void left by Rangers' demise.
Australia's top flight competition, the A-League, while far from a model of financial stability, is a vast improvement on its 2000 incarnation - the National Soccer League.
Was it the Socceroos victory that started Scotland's decline? No, but it certainly marked an important moment in Scottish football history.


0-2

International friendly - November 15, 2000, Hampden Park.
Scorers: Brett Emerton 12mins, David Zdrilic [pictured below] 66 mins.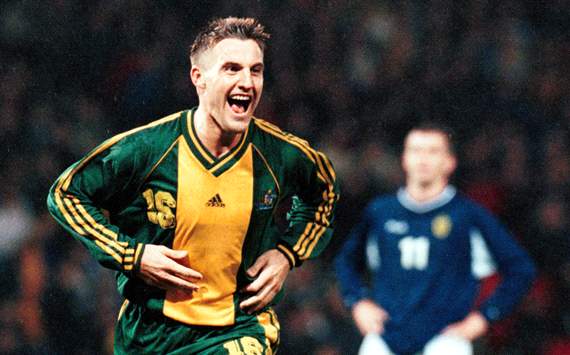 With a population far less than most of world's powerhouse football nations, Scotland - up until 2000 - could be said to be punching well above its weight.
The loss to Australia marked the moment when an emerging football country moved past them.
It was a significant fall from grace for a country that set out for the 1978 World Cup with high hopes of winning it.
While these proved to be misguided, then-Scotland manager Ally MacLeod was not ridiculed when he proclaimed "you can mark down the 25 June [the day of the final] as the day Scottish football conquers the world", before his squad departed from Glasgow for Argentina, only to bow out in the group stages.
If the current Scottish manager Craig Levein [pictured below] made the same bold predictions, he would be unlikely to be so lucky.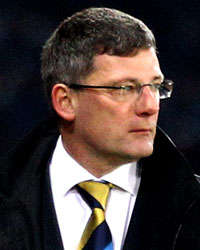 As defeat to the Socceroos illustrated to Scotland how far they had fallen, the opposite was true for Australia.
Having not qualified for the World Cup since 1974, taking on a nation like Scotland in their own back yard would have filled few Aussies with optimism.
But led by seasoned Europe-based players such as Tony Popovic, Stan Lazaridis and Mark Schwarzer, they showed they could compete and proved it was no fluke when they backed it up with victory over England three years later.
On the back of these results, the Socceroos went on to qualify for successive World Cups and record countless memorable victories over more fancied opponents.
It is this momentum that Scotland will be hoping to gain, while the Socceroos will be the ones looking to maintain their superiority this time around.
As their last meeting showed, nothing is a given in football and a proud history counts for little in the present.
As Australia's golden generation nears the end, every effort must be made to ensure that progress made does not depart with them.
The Tartan Army, meanwhile, will know that Scottish football is in dire need of a positive result.
It will not solve the problems the game faces in Scotland but it could provide a glimmer of hope in what has been its bleakest period.
Beau Busch is a former A-League defender with Sydney FC and North Queensland Fury and spent the 2011-12 season with Arbroath in Scotland's Second Division

Follow Beau Busch on