OLD SOCCER
By Doug Booth
Spend an hour talking football with Paul Trimboli and you realise the domestic game in Australia is heading in the right direction.
Trimboli is educated, articulate, passionate and determined to succeed.
So it is no wonder his good friend Ange Postecoglou, the coach Melbourne Victory believe can restore the club's pride and return them to winning ways in the A-League, did not hesitate in luring him 'home'.
At 43, the man known as 'Trimmers' is building a solid reputation as an administrator, working with Postecoglou at Brisbane Roar last season before taking up the role of football operations manager with Victory in June.
Working closely with Postecoglou, both as a player and a club executive, is something Trimboli has done for more than two decades, ever since they played together at former National Soccer League giants South Melbourne Hellas.
"We both lived in South Road, Moorabbin, and Ange would pick me up at the bus stop and take me to training," Trimboli told Goal.com.
"Then, when I was studying accountancy at university, he would meet me at a tram stop in the city and once again make sure I got to training.
"We had a lot in common, apart from his chauffeur role. We were both die-hard Liverpool fans, and still are."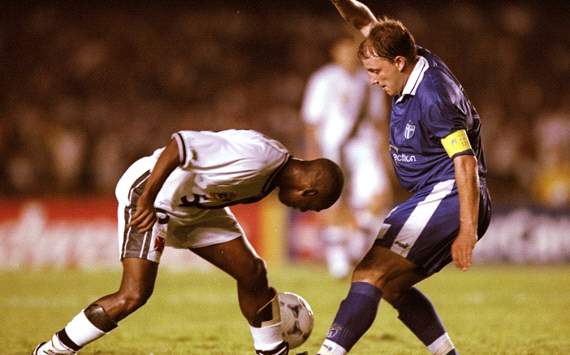 Trimboli led South Melbourne at the 2000 Fifa Club World Championship, meeting the likes of Amaral of Vasco da Gama [pictured above] and Manchester United on the pitch.
Unlike Trimboli, Postecoglou's NSL career was cut short, with a serious knee injury robbing the left-back of adding to his 1984 and 1991 championship-winning honours.
But in many ways, the career-ending injury at 27 made Postecoglou even more determined to succeed in football management.
And Trimboli has strong feelings about just how far his mate can go.
"If the powers that be are looking for a domestic coach to take charge of the Socceroos then he [Ange] has to be No.1," said Trimboli, who also had a stint as an A-League analyst before his move to Brisbane.
"If that is the way they want to go [after Holger Osieck], then he has to be top of the tree."
Trimboli believes his accountancy degree helps him in his current role in football - in negotiating, balancing the books and team building.
It is a challenge the former Socceroo and South Melbourne striker is relishing as the countdown to the new A-League season continues.
A skilful attacker, the dual Johnny Warren Medal winner scored 115 goals in 430 matches for South Melbourne and, perhaps even more impressively, he never once received a red card.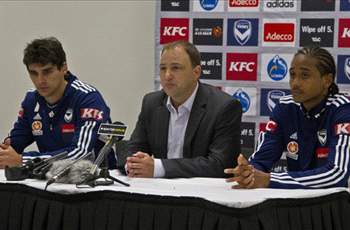 Perhaps his faultless disciplinary record will rub off on Victory this season after a disappointing 2011-2012, which saw lead the league in red cards with six.
As a former star of the Australian game, Trimboli is well aware of the issues the sport faces in this country.
But he believes the A-League has taken big strides and is well placed to maintain the growth as the eighth season looms.
"I just wish we were all on the same page," he said.
"It's still disjointed. There has to be more of a balance between those who were involved in the old national league and supporters of the new league.
"We all need to be working together."
Trimboli's experiences at South Melbourne, including the move towards full-time professionalism, have helped him to take the next step after his playing days.
And he admits he would support any young player looking to better himself by moving overseas, just as he tried to do with trials at Scottish giants Rangers and Manchester City.



"There has to be more of a balance between those who were involved in the old national league and supporters of the new league."





- Paul Trimboli on the future of the Australian game

Trimboli spent a month in Glasgow in 1990 but was never offered a contract.
"I stayed in a hotel with new signing [and England international striker] Mark Hateley. He used to take me to training in his Porsche. It was only a two seater and he had another player alongside him so I used to crush myself into the back," he said.
But one area that Trimboli has constantly ruled out is coaching - he will leave that to Postecoglou.
"Coaching is relentless. You are always thinking about how to improve," he said.
"You have got to be brutal at times and that is not me."
Goal Australia now has its own

and

account, so for all the latest news and features on Australian football follow us by clicking on the above links