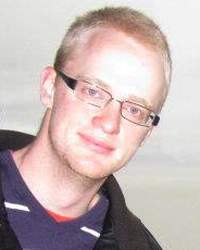 COMMENT
By Lachlan Taylor
After nearly two weeks and 24 games, I find myself in the odd position today of not having any football to watch.
With the Euro 2012 group stage done and dusted, the remaining teams now have time to take a breath ahead of the knockout rounds, and so do the fans.
Since the tournament began, I have watched some or all of nearly every group match, with the exception of some of the final-round matches which were played simultaneously.
But despite this football overload I am still hungry for more, particularly with a couple of choice match up in the quarter-finals.
However, the lull does give me the opportunity to look back at the last two weeks in Poland and pick out a couple of highlights.
The privilege of seeing reigning world and European champions Spain live in action is something I do not think I will ever forget.
Having watched them on television from the other side of the world as they used their dazzling brand of football to conquer the globe, I knew I was in for something special when I managed to get my hands on tickets to their final group match against Croatia in Gdansk.
Spain's squad contains an absurd amount of talent, so much so that Vicente Del Bosque had the luxury of starting Cesc Fabregas on the bench.
Those on the park did not disappoint though, with Andres Iniesta and David Silva in particular putting on a show unlike anything I had witnessed live before.
Spain are impressive enough watching on television, but in the flesh they are purely at another level.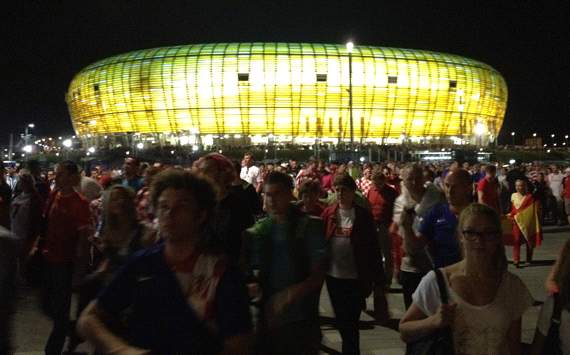 Fans flow out of the PGE Arena, having just had the pleasure of watching Spain live.
Sitting high up in the stands you have the luxury of looking ahead to see where the next pass should go, but often by the time I had returned to where the ball was, Iniesta had already seen the pass and delivered it perfectly.
Several times, Silva played through balls that genuinely seemed impossible, so much so that team-mate Fernando Torres often appeared shocked the ball had made it to him.
Iniesta's game was one of the best individual performances I have seen live. Despite being constantly harassed by Croatia's defenders, his poise, ball control and passing were unrivalled. Every time he got the ball he looked dangerous, and although he was consistently held, pushed and kicked by the opposition, he never lost his cool and always made the right decision.
The fact that he is not the best player at Barcelona only serves as proof of what a champion Lionel Messi must be, because to top what I saw in Gdansk would take some sort of player.
My only concern was that I might not get to see them score, as Croatia managed to hold on to a stalemate for 85 minutes. It had by no means been a classic performance from the world champions, and Croatia went very close to taking the lead several times.
But with only minutes remaining, Fabregas lifted a delightful ball over Croatia's defence for Iniesta to bring down and lay off to Jesus Navas, who needed only to walk the ball into the net.
Spain will need to play much better to see off France in the last eight, but it would be a brave person to bet against them.
My other highlight also came in Gdansk, but not at the stadium. Instead it was all over the northern port city, and came clad in green and singing loudly.
'Trap's Army', as many Irish fans have dubbed themselves, flooded into Poland to watch the boys in green, with reports suggesting as many as 100,000 travelled east to watch the Republic of Ireland play in their first major international tournament since the 2002 World Cup.
Everywhere you went in Gdansk, the Irish were there, singing, dancing and - of course - drinking.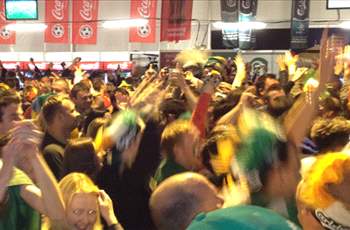 But rather than cause trouble, they proved to be a hit with the locals, with talks already underway to hold a friendly between Ireland and Poland later this year so the fans can return.
And it was not just the fantastic atmosphere they created in the city, but the fact that they did it even as Ireland exited the tournament without a point.
I watched in the fan zone in Gdansk as Ireland were hammered 4-0 by world champions Spain, but never was there despair among the fans.
After Fernando Torres scored the opener, the singing resumed almost immediately, and even a second to David Silva would not silence the chants of "We're gonna top the group'" and "We're gonna win 3-2".
A second to Torres and it was game over, but still the fans continued, defiantly singing "You'll never beat the Irish".
The game finished in a heavy defeat, but still Trap's Army were willing to "Stand up for the boys in green", or even "Shoes off for the boys in green" well after the final whistle.
Two days later they were still singing in pubs all over Poland, belting out "I know you'll never believe us but the group is upside down", in between choruses of Molly Malone and Sweet Caroline.
Such optimism and unwavering support is rare to see in sport, particularly after a heavy defeat, but the Irish fans set an example more should follow.