It perhaps came a year too late, but Dejan Kalinic believes Ange Postecoglou's move to Melbourne Victory is a sound piece of business for Anthony Di Pietro and the club's board
OPINION
By Dejan Kalinic
Chairman Anthony Di Pietro and the Melbourne Victory board have finally got it right.
The worst-kept secret in the A-League was confirmed on Thursday, with departed Brisbane Roar coach Ange Postecoglou joining the Victory on a three-year deal.
After months of speculation, the former South Melbourne coach officially took the reins at the two-time A-League champions.
For Di Pietro and Co., under-fire from fans, it was a coup they needed.
A 'worldwide' search led to the appointment of Mehmet Durakovic as coach ahead of the 2011-12 season, with the former Socceroo failing to get Victory firing.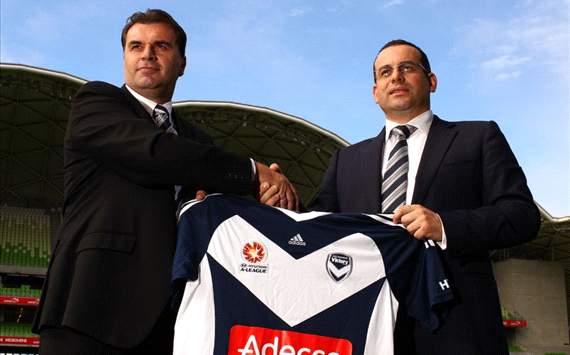 Di Pietro [right] finally has his man in Postecoglou [left].
There may have been further criticisms had Northern Irishman Jim Magilton, who had Victory improving without getting results on the board, being appointed.
The chase of Harry Kewell's signature has proved worthwhile for the Victory, a rare plus for Di Pietro's team.
Now, they have secured the services of Postecoglou, who astonishingly never signed a contract extension that was agreed in principle at the Roar.
The signing of the best coach in Australia is what Victory fans - used to success - demand, and understandably so.
If Postecoglou was a perfect fit for Victory ahead of the 2011-12 season, he is arguably an even better one at the end it.
The 46-year-old was unafraid to dump the likes of Craig Moore, Danny Tiatto, Bob Malcolm and Charlie Miller when he took charge of the Roar from Frank Farina.
That same broom would have been part of the reason for his appointment at the Victory.
While the likes of Rodrigo Vargas and Tom Pondeljak have departed, there are decisions to be made about the futures of several others.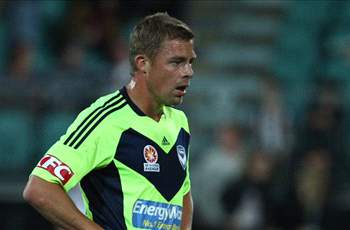 Question marks remain over players like Leigh Broxham, Matthew Kemp, Grant Brebner and Danny Allsopp [pictured].
Whether Carlos Hernandez stays - if he does he may be the fittest he has ever been - is still up in the air, while Kewell is likely to fit into Postecoglou's plans.
A rebuild of almost the whole squad may have been preferred, but such exercise would be costly - terminations of contracts and the like - and extremely difficult.
Fan expectations are already high, with some potentially expecting Postecoglou to bring immediate success.
But Postecoglou must be afforded time to turn around a Victory team that recorded just six wins last season.
When the Victory squad returns for pre-season training on May 1, fitness will undoubtedly be top of the priorities list for Postecoglou.
His championship-winning Roar teams were the fittest in the league, able to play at a high intensity and netting late goals throughout their campaigns.
The former Young Socceroos coach continually said during his unveiling a "new challenge" was the reason for his move, and mentioned the timing was right.
The timing is perfect for both the Victory and the Roar, who clinched back-to-back titles and will arguably be a side better for the influence of a new man at the helm, albeit someone they are familiar with in Rado Vidosic.
Hailed for his motivation, one can expect Postecoglou to have his Victory side playing with passion and spirit, something that will please fans.
There is work to do, but it was a signing Di Pietro and his board needed, for themselves, and mostly, for their club and loyal and success-hungry fans.