COMMENT
By Jason Dasey
Talking to Ajax manager Frank de Boer, you would swear that Jan Vertonghen's move to Arsenal next season is already a done-deal. What is not so certain is if the former Netherlands captain will ever join the tall Belgian in the English Premier League.
Ahead of upcoming matches, defending champions Ajax sit atop a crowded top-six in the Eredivisie after eight consecutive league victories. Yet de Boer is resigned to losing his club captain at the end of the campaign, with the Emirates Stadium the most likely destination.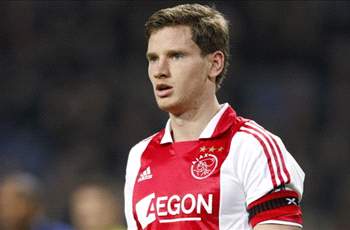 "Yes we've already discussed it," de Boer told the Football Fever Podcast this week. "When there's a club that he's already interested in - and it's really got to be a good club - then he will leave. It's 100 percent sure.
"I think he's ready to make a next step. For us, it's a setback, of course, to miss that kind of quality player."
An elegant and technical ball-playing central defender who can play in other positions, Vertonghen is the perfect fit for a team managed by Arsene Wenger, and is a close friend of Thomas Vermaelen, his international teammate.
More than any other Arsenal player, Vermaelen will be looking to redeem himself when he welcomes Manchester City to the Emirates Stadium on Sunday because it was his two slip-ups that saw the Gunners' winning streak snapped at Queens Park Rangers last weekend.
But that poor performance aside, Vermaelen has been a strong success since arriving in North London three years ago. Eighteen months younger, 24-year-old Vertonghen followed a similar route to his countryman: from the youth teams of Germinal Beerschot and Ajax. If he can be anywhere near as effective as Vermaelen, a rumoured fee of €13 million will be a shrewd investment.
This week, de Boer's twin, Ronald – the Ajax youth team coach – claimed that Vertonghen was even better than Vermaelen and could become as good as ex-Manchester United defender Jaap Staam. And in what may have been an unsubtle way to start a bidding war, he added that Vertonghen would fit in well at Real Madrid or Barcelona.
Frank de Boer took over the reigns at the Amsterdam Arena in December 2010 after Martin Jol walked out, with the club in fourth place after 17 games, five points off the pace. Not only did de Boer steer them to their first Dutch title in seven years, the good times have continued this season, including a famous 2-1 victory in the Europa League at Old Trafford.
He is one of a growing number of former national heroes to have turned to management. Phillip Cocu, de Boer's long-time Netherlands' teammate – and fellow Oranje assistant at the 2010 World Cup – recently took over in a caretaker role at PSV.
From the slightly older crop, Ronald Koeman has helped transform Feyenoord – having already coached at Ajax, PSV and AZ Alkmaar – while former national and Ajax boss Marco van Basten will take over the reigns at Heerenveen for the 2012-13 season.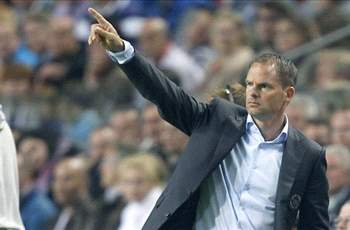 Having played for Rangers in Scotland and with his excellent English language skills, 41-year-old de Boer would seem to be a good fit for the Premier League, especially with Chelsea considering managerial candidates for next season. But de Boer seems intent on serving his apprenticeship in the Netherlands before considering a bigger step.
"I'm getting more used to my role," he explained. "In the beginning I was like 90 percent player and 10 percent manager. Now it's 80 percent manager and 20 percent player.
"Maybe I will always a have a percentage of player in me but now I know what the role of a manager is and I can cope with that."
What about throwing his hat into the ring for the Chelsea job? "No, not right now. When I started my career as Ajax coach I said that hopefully I can be 10 years in the job at this club. That's still my goal. But you never know what's going to happen.:
Even before de Boer and his older twin brother Ronald moved from Amsterdam to a superstar-laden Barcelona side in 1998, Ajax was a prolific production line of top-class talent to bigger leagues.
More recently, Luis Suarez made the transition from the Eredivisie, joining Liverpool in a £22.8 million deal in January 2011 after scoring a phenomenal 81 times in 110 league appearances.
Goals have been tougher to come by at Anfield – 11 in 39 matches – with Suarez hampered by an eight-match suspension this season for being found guilty of racially abusing Manchester United's Patrice Evra.
But de Boer predicts that the Uruguay international will respond in a positive fashion.
"It's been difficult [but] he is a street fighter," de Boer said. "He has such a great mentality to win every game. And if he can score 10 goals in a game, he wants to score 10 goals in a game.
"I think he's a fantastic player and hopefully Liverpool will see a whole lot more from him because I think he can be even better still."
Ajax have become accustomed to seeing their biggest names leave behind the canals and coffee shops of the Netherlands' largest city. But their much-revered philosophy of total football lives on, and, for the foreseeable future, the de Boer twins are likely to be part of it.
* Jason Dasey is an Asia-based international sports broadcaster and host of the Football Fever Podcast every week on Goal.com, the world's first international soccer podcast with an Asia-Pacific perspective. Twitter: JasonDasey