Seemingly over a horror run of injuries, Australian midfielder James Wesolowski has his career back on track - and is now looking to return to the international fold
EXCLUSIVE
By KIERAN PENDER


He was once labelled a star in the making, and received a Socceroos call-up at the tender age of 19. But injuries can do cruel things to professional footballers, and series of lengthy spells on the sideline threatened to stall James Wesolowski's career just as it looked so promising.
Yet still only 25, the Australian has had somewhat of a resurgence. This season alone, he has guided Oldham to League One safety, captained the Latics as they dumped Liverpool out of the FA Cup and notched almost 40 appearances in all competitions.
Having signed for League One side Oldham Athletic in August, 2011, Wesolowski managed 30 starts in his first campaign with the club and has added another 39 this season as the Latics finished .
Reflecting on his time at Boundary Park so far, the midfielder is positive.
"Yeah, I was happy [with the number of appearances] to be honest, but at the same time my main goal last season was to be injury free," Wesolowski told Goal Australia.
"In the past obviously I've had quite a few injuries, and at the moment, touch wood, everything has gone well."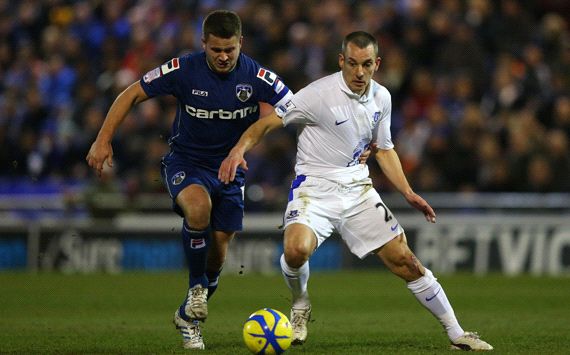 Wesolowski battles Everton's Leon Osman in this season's FA Cup.

Wesolowski began his career in Australia before being spotted by an English club: "I was playing for Northern Spirit at the time in the NSL and I was selected for NSW and played a game for them," he said.
"At the time, Leicester had scouts all around the world, and there was a scout in Australia watching. So he brought me over for a couple weeks, and they liked what they saw, so I signed a contract."
Although the midfielder struggled to break into the first team at Leicester, he nonetheless sees his time at the Foxes as vital to his football development.
He still made 58 appearances for Leicester over his five years at the club, landing at Oldham after a handful of loan spells and a one-season stint at Peterborough.
"At the end of the day, they gave me my first chance in professional football, so I look back on that as a good time in my career," he said.
But Wesolowski's career has been somewhat stalled by a myriad of injuries, including two broken legs, a fractured ankle and a serious shoulder injury. According to the midfielder, however, these blows have only made him a better footballer.
"It's hard, but at the end of the day you have these setbacks in football and in life," he said.
"And you just have to hope they make you a stronger person. If something bad happens now it doesn't affect me as much, because I've had these big injuries in the past – so it's made me a stronger person."
Despite the hard times, Wesolowski insists he at no point considered throwing in the towel and returning home: "No never, I'm living the dream doing this," he responded. "When I was young all I wanted to do was play football in England, so to have this opportunity, I'm lucky."



"I keep my mind open, and if I am doing well there is obviously a chance [with the Socceroos], but for now I'm just concentrating on playing my football for Oldham."

- James Wesolowski

Along with counting England and Australia as home, Wesolowski also has Polish heritage - a trait he shares with fellow Oldham player Cisak.
But, like Cisak, Wesolowski has committed his international allegiance to Australia.
After making a solitary appearance at the 2005 Youth World Cup, the midfielder was called up for the Socceroos on his 19th birthday for an Asian Cup qualifier against Kuwait.
He was forced out due to injury and was later named in the Socceroos side to take on Nigeria in November 2007, but again did not make the pitch.
"It was hard, because obviously it's your dream to play for your country," Wesolowski said.
"I was on the bench against Nigeria, so I thought I had an opportunity then, but the manager only made one sub - and that was a bit gutting. But I was still very privileged to get called up for a squad, and it was a great experience."
Wesolowski remains proud of being called up to the Socceroos at such a young age, and still delights in the time he spent in camp with his childhood heroes.
"Looking back it still hasn't really sunk in," he said.
"It was great, playing with some of the best footballers Australia has brought through."
Having been so close yet so far from his Australian debut, the midfielder still harbours hopes of a national team call-up.
"Obviously I'd love to [play for the Socceroos]," Wesolowski said. But he admits that "... at the same time, looking at the Australian players at the moment, it would be tough.
"I keep my mind open, and if I am doing well there is obviously a chance, but for now I'm just concentrating on playing my football for Oldham."