EXCLUSIVE
By PETER DAVIS


Ryan Griffiths left A-league side Newcastle Jets in February to the surprise of many, but his next destination - Chinese second-tier side Beijing Baxy - was an even bigger shock.
Formerly of Chinese Super League clubs Liaoning and Beijing Guoan [pictured below], Griffiths explained his move, his ambitions with Baxy and his opinion on the current state of Chinese football to Goal Asia.
Your move to Baxy was a huge surprise - what made you come back to China?
I have been very open with everyone that, financially, it is a lot better for me and it's important to my family, too, to be in a place they know. There were offers from CSL clubs but Baxy were more appealing personally.
What are your thoughts on the reaction to you leaving Australia?
[It's] hard to say. I was happy there in my hometown and, of course, I loved living and playing there. For the good of myself and everyone around me, I wanted to take this chance in Beijing. It's not easy to go and get another job but my past successes definitely helped. Baxy have treated me incredibly well so far and I have no doubt that I made the right choice. They have made great new signings [fellow former Jet Tomislav Misura and Lucian Goian both having CSL experience] and a new coach [Croatian Goran Tomic]. It's a new chapter for the club and I would rather be here than at a club with no ambitions. Baxy actually have very impressive facilities, better than many CSL sides, and they have lofty ambitions despite the fact they finished 15th last season. [Baxy were actually relegated to the Chinese third tier but gained a reprieve as Dalian Shide dissolved in the Chinese Super League].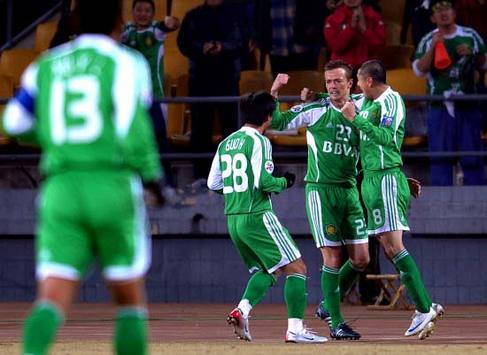 How can you explain the Chinese fans reaction to your arrival?
Huge. They definitely like me a lot over here. Baxy signed me and were getting 500 or so fans last term and look at the attendances now - it was a smart move on their part. [Griffiths also discussed his 2,500 Twitter followers in comparison to 57,000 and counting on Chinese site Sina Weibo, an account he started just a few weeks ago].
What are Beijing Baxy's chances this season?
It's early days but we are working hard. It's important to not get our hopes up and we have been somewhat unconvincing in the first two games. We just have to keep our heads down and concentrate. [Baxy have won their opening three games, with Griffiths scoring three goals]. In China's League One you've got Chongqing Lifan, Harbin Yiteng and Henan Construction who are all good sides and I look forward to turning out against them. There will be a lot of tough games.
You spent several years in Romania - what did that teach you about different cultures within football?
Times were tough there. I wasn't playing at the start and it took a new coach for me to be successful and then the pressure was really on when I transferred to Rapid Bucharest. Romania helped wake me up to the realities of the football world.
What in your opinion are the key differences between the A-league and the Chinese league?
Aussie soccer is definitely a higher tempo and involves a lot more pressurizing. China seem to be basing themselves on the English Premier League model and rightly so. Good foreigners and big names make it a little more unusual but much more technical. Tactically Australia is better too and for Chinese football to be successful they need to improve on the aspects that Australia get right. The season I won the CSL with Beijing Guoan was when we had everything right. If other sides do that then there will be no stopping them.
In your opinion, is signing big names good or bad for Chinese football?
It's tough to spend a lot of money on what could be a flop but myself and my brothers have proved we are good-value players [Griffiths' brothers Joel and Adam both had spells in China]. China needs the names to get the crowds in and promote football at the next level. The wages for [Nicolas] Anelka were mad but even he proved that the CSL is no walk in the park. Many players come here expecting to score a goal a game and it's just not that simple.
You have had spells at Liaoning and Beijing Guoan in the past. How will this spell in China be different?
I want to stabilize and this will not be a short trip. I signed a one year contract but I am committed to much longer in China, all being well. I have big ambitions this time around and I want to learn even more Mandarin. The other Chinese players show an unbelievable amount of respect for you if you speak their language with them. I've also thought about coaching and I really like sharing my previous experience in China with other players.
Beijing-based Peter Davis watched Liaoning Whowin play Chengdu Blades in 2008 and has been hooked on Chinese football ever since. He is a regular contributor to Wild East Football and can be found on Twitter at @peteydavis
Goal Australia now has its own

and

account, so for all the latest news and features on Australian football follow us by clicking on the above links