EXCLUSIVE
By KIERAN PENDER


According to former Oldham Athletic boss Paul Dickov, Liam Jacob came highly recommended by one of the most respected goalkeeping coaches in the world - Manchester United's Eric Steele.
Not bad going for an 18-year-old.
But Jacob is not any ordinary teenager, having already impressed at English powerhouse clubs Liverpool and United.
Now settling into life at the Latics, Goal Australia spoke with the Sydney-born goalkeeper about the Australia youth duty, surfing in Wales and chatting with Wayne Rooney.
Speaking in a self assured and confident manner that belied his youth, Jacob is a friendly and open subject, with the first topic up for discussion his move to League One side Oldham last June.
"It's been excellent - unbelievable. I've been at Oldham for a while now, and the training has been great. Being in and around the first team and training with them everyday has been really beneficial," he said, having already made his league debut for a handful of minutes as a late substitute against Doncaster in November.
Helping make the goalkeeper's switch easier were the three other Australian players at Oldham - James Wesolowski and fellow goalkeepers Dean Bouzanis and Alex Cisak - who Jacob credits for the smooth transition.
"It was such an added bonus, it made it so much easier. It's just nice to be around other Aussies while over in England, because it's not something you get every day," he said.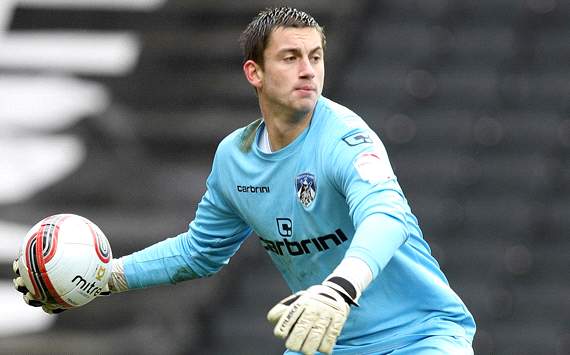 Jacob is one of three Australian goalkeepers at Oldham, along with fellow former Liverpool trainee Dean Bouzanis and Alex Cisak [above].
Only a few months in to Jacob's stint at Boundary Park, the Sydney-born keeper was selected in Paul Okon's Young Socceroos squad for the AFC Under-19 Championship. Although he only saw 45 minutes of action in a pre-tournament friendly, Jacob still spoke glowingly about the opportunity.
"It was excellent - it's a whole other side of football being part of the squad at these tournaments," he said.
"It was such a great experience and a great honour to go away with the team - I was constantly learning."
After going through the group stage undefeated and demolishing Jordan 3-0 in the quarter-finals, the Young Socceroos disappointingly exited the tournament with an unexpected loss to Iraq.
It was a lesson for Jacob: "You can't underestimate any team, and getting further along through the tournament to the semi-finals we always knew it was going to get harder," he said.
"We didn't really expect to lose [to Iraq], and we didn't expect to lose any of the games while we were there, but our main goal was to qualify for the Youth World Cup, and that's what we did."
If the talented keeper is selected for the Australian squad to compete at the Under-20 World Cup in Turkey in June and July, it will cap a dramatic rise that started when he was barely a teenager.
What began as a family decision to relocate ended up with a contract at Liverpool and then Manchester United.
"My grandparents live in Ireland, and my Nan was unwell around that time, so we were going to move over anyway," he said.
"I was training with Jim Fraser's goalkeeping academy [in Sydney], and he had previously coached Dean Bouzanis. So Jim knew we were moving over and he tried to organise a trial at Liverpool. I went over and they were very happy with me."
Signing for the English giants at such a young age was unsurprisingly an amazing, and something he animatedly recalls.
"It was kind of shell shocking at the time," he said.
"It was like I had a golden ticket in my hand, and I just had to go for it. It was unbelievable, just such a great achievement at such a young age, and I was really happy."

After the departure of several key coaching staff at Liverpool, however, Jacob decided a move might be necessary, and soon after signed with another prominent club.
"Being at Manchester United was just unexplainable," he said.
"At United, the youth, reserves and first team all train and eat in the same spot, and are all together. So on my first day I went in and was warming up on an exercise bike and I've got Wayne Rooney coming over and sitting next to me, having a chat. That's not something you get every day.
"I was training with the first team quite regularly, so I was up against Rooney, Paul Scholes, and Ryan Giggs. And to be training with the likes of Edwin van der Sar, [David] de Gea, [Anders] Lindegaard, you've got very experienced keepers at the top of the league, and it's something to model yourself off first hand."
Although Jacob did play regularly for the United youth team and made the reserve side bench on several occasions, ultimately a lack of game time saw the youngster consider other opportunities.
"Basically there were two older keepers, maybe 20 and 21, and I was 17 at the time, so I wasn't going to playing for the reserves," he said.
"Eric Steele told me he thought, for my development, I should go to a club where I'd get a lot of games. He thought that would bring my game along in leaps and bounds."
And that decision led Jacob to Oldham, where he has made his first-team debut and appears regularly in the reserves. While the 18-year-old is acutely aware of how lucky he is to be playing football in England, Jacob does have one minor gripe about being away from home though.
"My Dad is a surfer, so I was born into surfing as well, but I've always been into football," he said.
"There's a bit of surf up here - we went surfing in Wales one day, but it was freezing and not very nice."
For now, Jacob is focused on impressing for Oldham and targeting a spot at the Under-20 World Cup. Yet one goal remains above all else, constantly pushing the keeper to greater things.
"Every footballer wants to play for their country," he said.
"It's one of the highest honours, and so I'm always working and striving to get further down the line with the Australian team. I definitely want to play for the Socceroos when I'm older. Every day when I'm training that's something I have in the back of my mind.
"It's one of the main goals in my football career."