EXCLUSIVE
By PADDY HIGGS
Chief editor - Australia

Australia international Michael Zullo will enter contract negotiations with FC Utrecht next week as he looks to extend his stay at the Eredivisie club.
The left-back has made 32 appearances for Utrecht since joining from Brisbane Roar as part of a package deal also including Adam Sarota and Tommy Oar in 2010.
Zullo has had to battle hard for a place in Utrecht's XI under manager Jan Wouters, with a groin strain sustained at the start of the season opening the door for rival Davy Bulthuis.
But the bitter European winter has brought with it sunnier times for the fortunes of Zullo, who has made four starts and two substitute appearances for Utrecht since December.
Having also won a recall for the Socceroos, the 24-year-old is now set to open talks on a new deal ahead of the expiry of his current contract in June.
"My contract finishes in the [European] summer, but we're having a meeting next week regarding everything with that," he told Goal.com.
"As long as you're playing - that's the most important for all Australian footballers… especially in the year leading up to the World Cup.
"It doesn't really matter where you are, as long as you are playing week-in, week-out… As long as that's the case, I'm definitely happy to stay at Utrecht.
"We have to wait and see. We're having this meeting next week, and that'll shed a lot of light on everything."
Zullo should get his chance for playing time in the immediate future, at least, after Bulthuis went down with an ankle injury after just seven minutes in Utrecht's 2-1 loss to PSV Eindhoven on Saturday.
Zullo replaced him and did his selection claims no harm, performing well as Utrecht - sixth on the table and targeting an automatic Europa League spot - pushed the league leaders.
Fresh from perhaps his "best performance of the season so far" and with Bulthuis likely to miss Sunday's match with Roda JC, Zullo is targeting a run in the starting XI.
"Hopefully I can play again this weekend, and if I can put in a good performance, hopefully I can stay [in the team]," he said.
"I thought I played quite well against PSV, considering the opposition. This week we've got a home game. I hope I can stay in the side. It's important for me for the Socceroos too."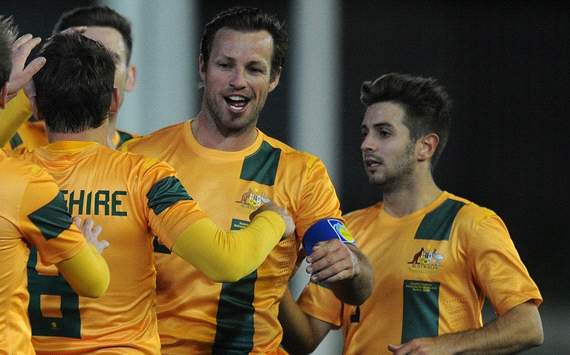 Having regained favour with Socceroos coach Holger Osieck, Zullo is hoping to stay there.
Zullo's start for Australia in February 6's 2-1 friendly loss to Romania was his first for his country since the AFC World Cup qualifier against Thailand in November 2011.
He admitted his return to international football had taken some adjusting, but he had been "really happy" to be back with the Socceroos.
"I think as long as I'm playing regularly overseas, I feel pretty excited about the prospect of being able to play [at left-back] for the Socceroos," he said.
"There is some players coming through that have done well in recent times, but in general I think I've done pretty well under Holger when I've played there.
"… We got into a really good patch there with [matches in 2011 against] Malaysia, Oman, Saudi Arabia all in a row, and I felt really comfortably in the squad. I've just got to work my way back in and earn my spot."
Still living with Oar and Sarota, Zullo revealed the former was not far from being ready to start for Utrecht after injuring his hamstring.
Sarota, meanwhile, underwent surgery on Tuesday after tearing his cruciate ligament against Willem II on January 27.
The 24-year-old had been in the midst of his best season at Utrecht, making 18 starts before being struck down. He is likely to miss at least eight months of football.