"What is pressure?", asked Australian coach
Nathan Hall
when questioned if he feels the burden of leading
United Sikkim Football Club
out of the relegation zone.
"Pressure is when you're homeless and you can't meet your family," he said. "Everybody who saw that match [against Churchill Brothers], we were the better team by far."
The Snow Lions had
made the Goan club work hard for a win
on Sunday before succumbing 2-1, and Hall was proud of his contingent for their performance.
"We were controlling the game. We were dictating the tempo and moving the ball nicely, creating chances. You ask me right now, I'm very happy with the performance of my players," he said.
"The intensity at which we were pressing and the way we worked hard during the 95 minutes, we were very unlucky again."
"The way that we're working and training - the spirit of the squad - I guess I'm very lucky that I got a bunch of 25 to 30 players who are giving their everything in every session, every match."
- Nathan Hall

The former Thai Port assistant coach also believes that United Sikkim's style of play has changed since his arrival after taking over from interim player-coach Bhaichung Bhutia in December.
"As I said, we are in a position now where we are controlling games and dictating the tempo against teams like Churchill [Brothers] and Pune [FC] and Mumbai FC. Two months ago, we were only defending deep at the edge at our own penalty area," he said.
"So, you know, our style of play has changed and I'm confident that eventually we're gonna start picking up points and winning matches."
Hall stressed that his side can move up the table.
"Like I've said in previous weeks, we have been losing by an odd goal to a team who probably has five years of experience. So look, I believe you make your own luck. You keep working hard and the luck is eventually gonna fall in our favour."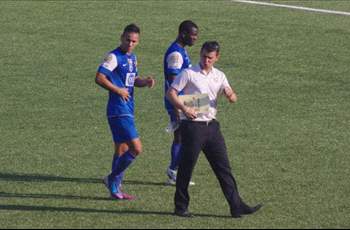 John Matkin (far left) has impressed Hall
It is believed Mexican-American midfielder John Landa Matkin was on trials with Dempo SC in Goa for a few weeks before the attacking midfielder decided to sign for United Sikkim.
"I don't keep players for 30-day trials like other teams. If I see something I sign the player straight away. I don't waste time. He is a good player. He has got a fantastic attitude. He's got a physical presence upfront and we need that. So it's an opportunity for him to show us what he can do in the ten matches," Hall said.
"He'll get plenty of chances, plenty of opportunities. If he plays the way he did [against Churchill], he can provide that cutting edge that has probably been missing."
Interestingly, United Sikkim's next match will be an away test against Dempo SC, at Duler Stadium in Goa, on Saturday.