By

PADDY HIGGS


As the youngest coach in India's I-League, Australian Nathan Hall appears to have time on his side.
The 27-year-old knows there is little to waste, however, if he is to drag United Sikkim FC clear of the relegation zone by season's end.
Appointed on December 10, the position at United is Hall's first head coach role. He did his apprenticeship with youth teams in the New South Wales Premier League before moving to Asia to take up assistant roles at several Thai Premier League clubs.
He impressed co-owner Baichung Bhutia to win the United Sikkim job, which had become vacant after Belgian Philippe de Ridder had been moved into a football director role.
Hall's side sits just one point and place above the relegation zone, with his tenure beginning with a 1-0 loss to sixth place Mumbai FC on Sunday.
He is positive about the "spirit" in his squad after a "good week of training", but believes there is plenty of improvement to be made.
"I have no idea what they were doing before, but to be honest, I think the conditioning and the training program before was sub-standard," he told Goal.com.
"I am a modern coach, I have a background in coaching and sports science and we are going to improve, physically and tactically."
Making his own mark is also key. Hall is yet to meet de Ridder, who guided United Sikkim to the I-League 2nd Division title and promotion after taking charge in November, 2011.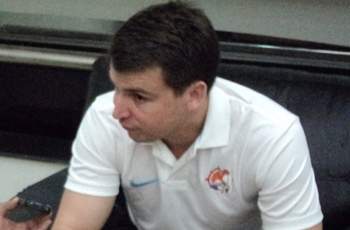 But results were tough for the Belgian in the club's maiden top-flight campaign, with United Sikkim picking up just one win in eight matches. His tenure ended with a 10-1 loss to former Melbourne Victory attacker Carlos Hernandez's Prayag United on November 10, with co-owner and veteran striker Baichung Bhatia taking charge in a part-time capacity until Hall's appointment.
"I have never seen or met him since my time here," Hall said of de Ridder.
"Phillipe is not in-charge now, I am. I would be okay with meeting him for a coffee but I don't care about the past. I want to move forward. I and Bhaichung have a good relationship.
"He knows it [change in fortunes] shall not happen overnight. Teams needs time to understand my ways and results will get better."
It is a strong statement from someone of Hall's age, but he believes he is equipped to deal with the job - including being younger than some of the players under his tutelage.
"I have been coaching since I was 18, so I don't care about being younger than some of my players," he said.
"I have been a professional since I was 22, I can coach and know how to talk to players and know how to organize the team. I am Australian and I don't like to lose and want to ingrain that in my players. Professional football is about winning."
And winning is exactly what Hall's job boils down to. He has 15 league games to save United Sikkim from the drop at the first time of asking.
"All I can do is work hard. I will work 15 hours a day to see that this team stays in the league," he said.
"If we work hard then we will do okay. We need to improve our home form, which is the key.
"We are dropping too many points and that puts pressure on our away games. I don't want to be in a position to need seven points from the last three games, and want to steer clear of the relegation zone."
- with Ayush Srivastava