David Williams says he won't mind being benched in favour of David Villa, but hopes
Melbourne City's
new-look attack proves big enough for both forwards.
Williams was his team's top scorer last season, netting 12 goals in their final
A-League
campaign under the guise of Melbourne Heart.
He will have a team-mate with unparalleled pedigree to help share the goal-scoring burden for at least part of 2014-15, as UEFA Champions League, La Liga and FIFA World Cup winner Villa arrives for a spell on loan from New York City FC.
And although the Spanish star could represent a threat to Williams' place in John van 't Schip's starting XI, the former Brondby and North Queensland Fury man is focusing on the positives of having such an exciting new colleague.
"If I'm losing my place to a player like David Villa, I probably won't have that many complaints," he told
Goal Australia
.
"He's David Villa for a reason.
"I'd love to be playing alongside him. Hopefully there's room for both of us in the team. It'll push myself as a player and hopefully I can do even better than last year. I need someone pushing me and if it's him, bring it on.
"Everyone playing up front has a responsibility to score goals. Strikers are judged on how many goals they score. I'm sure he'll start off with a big bang."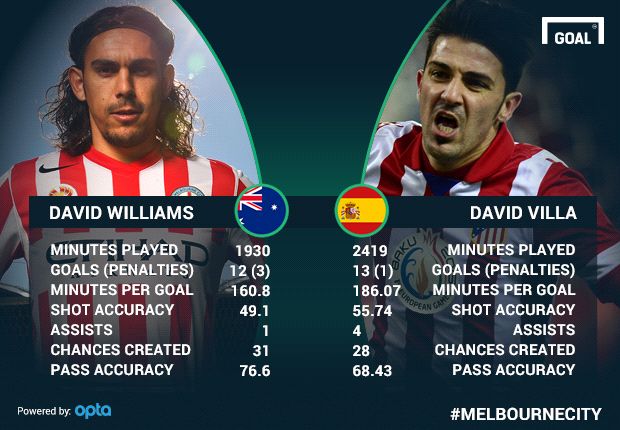 In addition to Villa's loan spell, Damien Duff has also agreed to join the club for the 2014-15 season, while reports continue to circulate about Frank Lampard following Villa to the A-League ahead of a move to New York City FC.
According to Williams, those transfer rumours have generated plenty of discussion within the squad, but the players remain as much in the dark as the supporters and journalists awaiting news of the former Chelsea star's next move.
"If it was to happen, it'll be great," he said.
"Until he's signed and it's announced then it's never really true. In football things can happen overnight, things can happen in a matter of hours. We know as much as the press. It's more about the excitement of possibly getting him at the moment."