After missing out on the World Cup, the highly rated young utility player could bow to pressure and re-grow the long beard and wild hair that made him a cult figure last year
Feature interviewBy Iain Strachan
During a marathon session of one-on-one interviews at the team hotel near Gosford last month, the
Socceroos
players were bombarded with the same questions. How do you rate your chances up against the best in the world? What's going to be the secret to beating Chile, the Netherlands and Spain? Will you make the final 23-man squad and then the starting XI?
For Newcastle Jets youngster Josh Brillante, widely expected even then to be left behind, it was a different question, one he's been asked repeatedly for the last 12 months. When are you going to bring back the beard?
There aren't many 21-year-old footballers in Australia good enough to earn a place in Ange Postecoglou's 30-man
World Cup
squad, and probably even fewer able to grow a beard as wild and rugged as the one worn proudly by Brillante last year.
The Hunter Stadium's very own version of Ned Kelly reached his untamed peak while playing for the Young Socceroos a year ago, and although the beard remains, increasingly aggresive personal grooming has resulted in neater, more understated hirsute features.
Perhaps Brillante, equally at home in midfield and defence, has missed a trick by returning to a more conventional appearance.
In their highly regarded book
Soccernomics
, which debunks myths and explodes stereotypes in football, Simon Kuper and Stefan Szymanski document occurrences of the 'availability heuristic' in scouting.
The basic premise is that the most physically distinctive athletes catch the eye more often during a game and continue to feature prominently in the mind of the observer.
When it comes to Australia's Under-20s in 2013, nothing was more distinctive than the young caveman in green and gold.
Although reducing the length of his beard didn't cost Brillante a spot in the expanded training group, he couldn't do enough to convince Ange Postecoglou to take him to Brazil. And with new coach Phil Stubbins to impress back at the Jets, perhaps it's time to put away the trimmer and summon up the bushranger look once again.
"That could be right there," he told
Goal Australia
when informed of Kuper and Szymanski's theory.
"(Mustafa) Amini has a big afro, you see some of the other guys like (Manuel) Fellaini. Maybe that little bit of difference can help."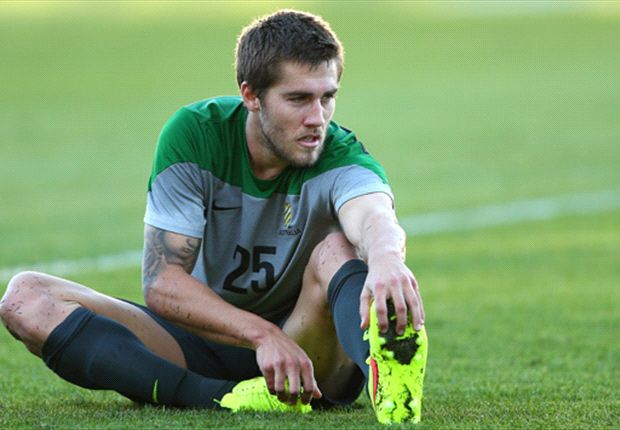 Earmarked as one for the future | No World Cup this time but a career in green and gold awaits
Beard or no beard, the trip to Brazil proved to be just out of reach, but Brillante was delighted and surprised to even be in the running, having been selected for special 'secret' preparation sessions in South Australia ahead of the official training camp.
"I didn't expect anything like this to come up so soon," he said.
"Hopefully it's just the start of things to come.
"For the Adelaide camp, that was about two weeks prior (that we found out). For me to even just be a part of that little camp was very exciting. They didn't say much about not telling anyone but it was just a low-key camp, obviously for fitness and stuff like that. We didn't need to say much."
While Brillante has to stay at home and watch the Socceroos' exploits from afar, Newcastle have Adam Taggart and Mark Birighitti as proud representatives of the club in the 27-man travelling party.
And that strong representation in the national team set-up has served as something of a consolation for the Jets' narrow failure to qualify for the 2013-14 A-League finals.
"For three of us at one club and all young boys to come away and be part of the 30-man Socceroos squad is great for the club," Brillante said.
"On the other hand it is very disappointing we didn't make the finals. Our aim was to make the finals, for us not to make it (for) another year was pretty hard to take. That just gives us more fire and more incentive to make the finals."
Taggart and Birighitti could yet join Brillante in making a painful early exit from World Cup contention, but whatever happens next week, the Jets are certain to benefit from their star trio's invaluable experience of training with and learning from the best Australian football has to offer.