Goal Australia's match reporters have voted the Argentine playmaker the competition's most impressive player during the course of 2013-14 regular season.
Club: Adelaide United
Position: Attacking midfielder/playmaker
Age: 30
Appearances: 22 (1)
Goals: 6
Assists: 4
What we think:
Goal Australia's match reporters picked Marcelo Carrusca as the best player of the 2013-14 A-League regular season with 30 votes, five ahead of Thomas Broich and Alessandro Del Piero.
He earned three votes as the man of the match on six occasions, and collected two votes in five different games, while getting an honourable mention with single votes twice.
And although the Argentine coming out on top might be something of a surprise (at least to those of us outside South Australia), an examination of key statistics illustrates the 30-year-old's importance to Adelaide United's impressive season.
As the most advanced player in the Reds' midfield trio, Carrusca has been responsible for linking up with the forward line and has served as the conduit for the Hindmarsh Stadium outfit's free-flowing, attacking football.
Carrusca hasn't dominated the individual stats columns in the same manner as Alessandro Del Piero and Thomas Broich. Part of the reason for that is way in which attacking responsibility - both in terms of creation and finishing - has been shared around at Adelaide.
Sydney FC had only one player in the top 15 for combined goals and assists this season; Del Piero (10 goals, six assists).
Even the Roar, premiers and title favourites, had just two men in the top 15; Broich (3 goals, 10 assists) and Besart Berisha (12 goals, no assists).
Those numbers demonstrate Brisbane's understandable reliance on the German to create and the Albanian to finish, while the Sky Blues often needed their Italian star to do both.
Adelaide though had four players in the top 15, the most of any team. Fabio Ferreira (nine goals, five assists), Jeronimo Neumann (nine goals, three assists), Sergio Cirio (eight goals, two assists) and Carrusca (six goals, four assists) all took turns supplying chances and delivering the killer blow.
Ferreira, Jeronimo and Cirio all played in more advanced positions than Carrusca, who would more often be found engineering goal-scoring chances. Despite that, he still more than held his own when he did arrive in the final third.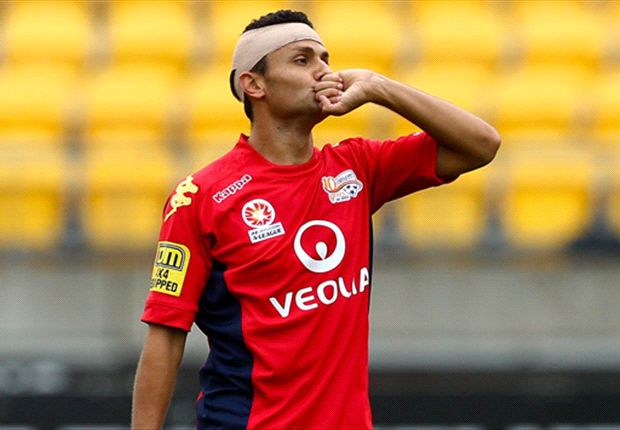 Panenka | The cheeky chipped penalty against Wellington was a highlight
A look through the other important numbers further demonstrate the impact of Carrusca's excellent season on the much-provided Reds.
At 82.8 percent, Adelaide were second in the competition for passing accuracy, behind only the Roar (83.5 percent).
Josep Gombau's team scored a higher percentage of their goals (87 percent) inside the area than any other team, something than can be interpreted as measure of Adelaide's incisiveness and domination of the opposition's defensive third, and there's no doubting Carrusca, with his nimble feet and ability to thread the eye of the needle, was a driving force behind that.
As for his individual stats, Carrusca attempted the second highest number of passes in the opposition third for his team, behind only Isaias Sanchez. He also won more fouls and attempted more crosses than any other Reds player.
A product of the Estudiantes academy, Adelaide moved to secure Carrusca's services for the 2014-15 campaign in February.
Speaking to Goal in April, Gombau singled out an aspect of Celo's game that may have gone unnoticed by casual observers.
What they said:
"I think he is doing a very good season," the Catalan coach said.
"I'm also happy with his job. He was a player at the beginning when I come he was a more attacking player, but now attacks and defends.
"This is something that he has improved this season and I am so happy for this because now it is important attacking and also very good with the ball, but the movement that he do, he recovers lots of balls also."
Did you know?
Carrusca was part of Argentina's 2003 FIFA World Youth Championship squad with Carlos Tevez, Pablo Zabaleta and Javier Mascherano.
He also crossed paths with Harry Kewell at Turkish club Galatasaray for one season, but spent that campaign on loan at Cruz Azul.