Adelaide United
coach Josep Gombau has a simple explanation for the wild celebrations that have made him arguably the
A-League
's most likeable coach.
Having already charged down the touchline to celebrate a goal with his players against Sydney FC last month, Fabio Ferreira's last-minute equaliser at home to Melbourne Heart last Friday night led to Gombau's latest Jose Mourinho moment.
The knee slide just failed to match the Portuguese's 2012 effort after Real Madrid edged Manchester City, coincidentally the club to have purchased Heart.
The 37-year-old Catalan and his players joke about his celebrations, but he wants the Reds players to match his own excitement for the beautiful game.
"All my life I have passion in football – it's my life," Gombau told
Goal Australia
.
"I love what I am doing and this is what I try to have inside and what I like and what I want of my players also.
"Have this passion – every single ball, every single game, every single minute they are in the pitch is important and they need to know."
Gombau's popularity was highlighted on Tuesday,
named coach of the A-League All Stars for their clash against Juventus
after collecting almost 40 per cent of 16,000 fans' votes.
How unlikely that had looked a third of the way into the campaign after Adelaide had picked up just six of a possible 27 points to start the season.
But now, with his star attack of Marcelo Carrusca, Fabio Ferreira, Jeronimo Neumann and Sergio Cirio firing, Gombau's men will play finals and could still finish second.
"We play the process. When you change the style, when you change the way that we play from the beginning to now ... we play this process," Gombau said.
"Last season the team played another kind of football, more directly, more long balls. Now we try to keep the possession and it's not easy.
"When we start to take all the movements and everything and to take this confidence to play this football, the results are all right."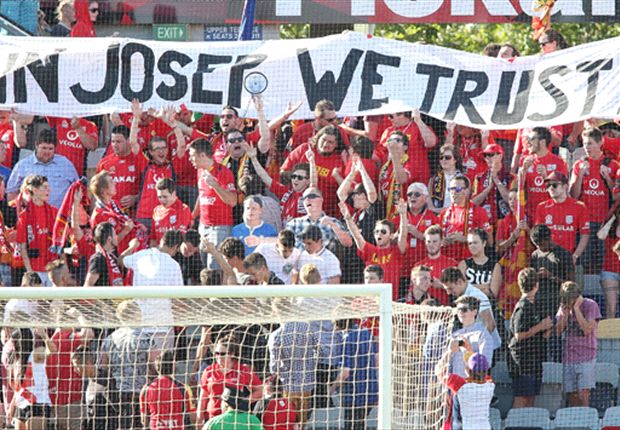 Backing the boss | The Hindmarsh faithful get behind the man in the dugout
And that is just reward for a group of fans who stood by Gombau during the tough start, demonstrating their support with an 'In Josep We Trust' banner.
There could be more to celebrate in 2014-15, when the former Barcelona youth coach expects his team to hit their best form.
Asked when Adelaide would be at their best, Gombau – also expecting to add players to his squad – said: "Next season.
"The team at that moment will be the best moment for football in our team."
Unsurprisingly, Brisbane Roar remain the team Gombau wants his players to emulate.
But that will have to wait, with Adelaide deferring further work on their possession game to next season to focus on finals success.
"Now it's more important to stop the process and try and win games," Gombau said.
"If you want to win the finals, you need to be competitive and that is what we're doing.
"We keep working on the movement and everything we work on until now and then try to have this high concentration for the competition."
If that combination of hard work and spirit comes good in the playoffs, perhaps there will be more passionate Gombau celebrations are to follow in the coming weeks.