Goal Australia brings you all the news you may have missed from the A-League and the Socceroos, including some gems from the Roar camp and Ruben Zadkovich's PR spin
False start for Mebrahtu at Wanderers


The young forward, who joined Western Sydney from Melbourne Heart in February, will miss the rest of the season and the start of 2014-15 after scans confirmed he suffered anterior cruciate ligament damage during his debut for the Wanderers off the bench against Sydney FC last Saturday night.


Taggart ready for Europe
Newcastle Jets veteran Kew Jaliens, who signed a one-year contract extension this week, believes young striker Adam Taggart is ready to try his luck overseas.
"He has everything he needs to make it. The next step for him is to go to Europe where they teach you how to really play."
Taggart, 20, has another season remaining on his contract, but Jaliens has advised him to accept an offer if it arrives.
"I think he is ready to go now if the chance comes for him. If you wait another year, you never know what might happen."
It's almost like he wants to get rid of him. Something you're not telling us, Kew?
Mulvey to end Brown's boredom
With Shane Stefanutto moving to centre-back to cover the injured Jade North, 20-year-old Corey Brown will return to
Brisbane Roar's starting XI against Sydney FC
at Allianz Stadium on Friday night.
And the subject of his time out of the first team afforded Brisbane Roar coach Mike Mulvey an opportunity to offer up some unsolicited pearls of wisdom.
"One of the hardest things for young boys nowadays is to be patient," Mulvey said.
"They need to learn patience.
"The youth of today, they want to play, but it is difficult to not be playing, and then you're twiddling your thumbs a little bit."
Our solution? Ball in a cup. Or board games.
Democracy at Suncorp Stadium
While Mulvey is busy handing out advice to the kids, Matt McKay and his fellow veterans appear to be running the team themselves.
"All of the players, especially the senior ones, have a lot of theories about how the games should be played and Mike's confident enough to take those on board," he said.
"There's no doubt he's the boss, but he's able to listen and absorb what people are putting forward. The success of that you can see in our results."
Can you imagine what would happen if some senior pro's tried that one on with Sir Alex Ferguson? Whack. Boot in the face, transfer listed.
Brazil lobbying begins in earnest
Not content with a
John Terry-esq display of leadership in the Sydney derby
last weekend, Sasa Ognenovski is exploring every possible option to boost his chances of going to the
World Cup
.
He's already got a gig analysing the AFC Champions League and if international selection was based on dressing better than Mark Bosnich late at night on mid-week TV, he'd be the first name on the squad list.
But it doesn't hurt to just come right out and say it, so here's the 'Big O' appealing directly to Ange Postecoglou.
"Experience is vital at the World Cup," Ognenovski told the
Fox Sports
website.
"The youth policy is great but sometimes you need experienced heads to steer the team in the right direction."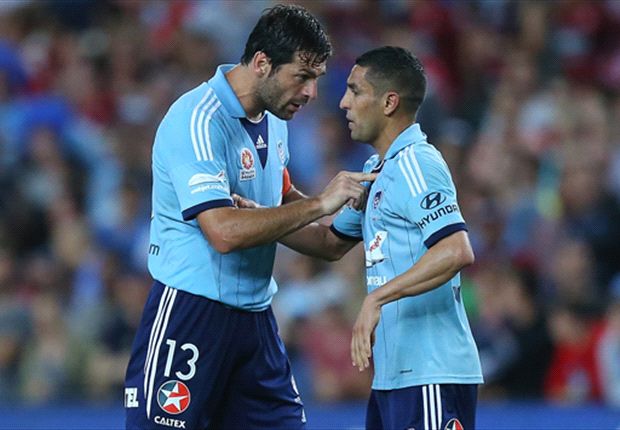 Australia's brave and loyal Sasa Ognenovski | Could the Sky Blues man still have a role to play in Brazil?


Bloodshed = Banter
Congratulations to Newcastle Jets captain Ruben Zadkovich for keeping a straight face while playing down the
training ground bust-up
between goalkeeper Mark Birighitti and defender Taylor Regan, which left the centre-back with blood streaming from a deep gash above his eye.
"It was nothing, to be honest," Zadkovich told
FourFourTwo
.
"I love how the photos from the media make it look like it was something but it wasn't.
"It was literally two guys coming together face to face. There was a little head clash, but it was absolutely nothing.
"The boys have been laughing about it ever since."
Hilarious, Ruben. Just hilarious.
Abbas abuse deadline approaches
The Western Sydney player accused of
vilifying Sydney FC's Ali Abbas
has until Monday to formally respond to the allegations as part of the governing body's investigation.
"FFA has provided details of the complaint to the Western Sydney Wanderers and provided the player the opportunity to respond by Monday 17 March."
Mabil eligible for Socceroos
Adelaide United's livewire youngster Awer Mabil, born in Kenya to Sudanese parents, has received international clearance to represent Australia.
"I've obviously wanted to play for Australia since I've come here so I'm really proud and thankful to everyone who has made this happen," he said.