The versatile wide player is the latest member of the Glory side to voice his discontent at being omitted from the squad, as rumblings of discontent continue to emanate from WA
Comment
By Iain Strachan
On paper
Perth Glory
have a decent squad, certainly no worse than any other team in the
A-League
, but until they stop allowing players to call the shots at nib Stadium, their wait for success will go on and on.
Last season the club sacked Ian Ferguson in favour of Alistair Edwards, who was allowed to rebuild the squad as he saw fit, putting his faith in the cream of young Western Australian talent.
But when the senior players found themselves marginalised under the new regime, a revolt prompted Edwards to issue the club with an ultimatum: "Them or me."
The club chose the players and the coach received his marching orders, just 10 months after signing a three-year deal.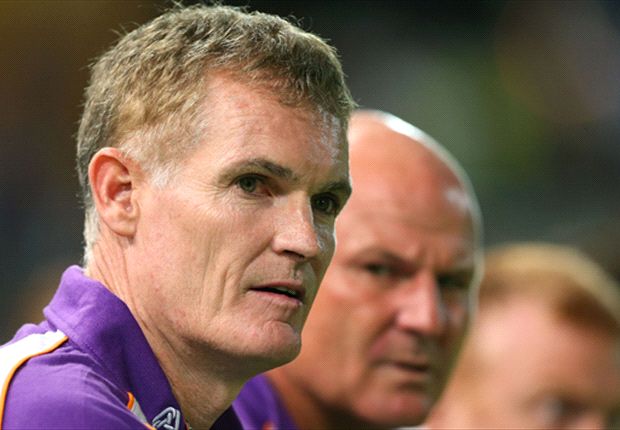 A victim of employee unrest? | Alistair Edwards didn't complete a full season as Glory boss
Kenny Lowe has been the next man to occupy what has proved to be the hottest of hot seats on the Perth Oval touchline.
The 52-year-old hasn't even been favoured with a long-term deal yet and his position may already be coming under threat from the club's rebellious playing staff.
Reports emerged on Saturday night of a bust-up between assistant coach Andrew Ord and William Gallas.
Owner Tony Sage, if you believe the best versions of the story, stepped in to defend his international marquee, who was guilty of a schoolboy error to gift Western Sydney a decisive second goal in a 2-0 defeat for the Glory.
Scott Jamieson dutifully denied reports of a dressing room rift on Wednesday, but Perth's attempts at displaying a united front were promptly undone by Adrian Zahra.
"I'm not pointing any fingers at anyone but I think team selection has been a bit of an outrageous one," Zahra told
Sport FM
.
"We've had three or four players that have come in underdone and Kenny's pointed that out himself.
"We've got six or seven players there that came back into the squad all in one motion when they were all not 100 percent fit.
"That was always going to take a bit of time and that's where myself and a few other players were obviously a bit frustrated because you have to sit there.
"On paper they've done the job in the past and they're great players with good attributes.
"The more games and the more training sessions they get the better they'll become.
"But in terms of right now, if we've got players that are underdone we have to have a look at ourselves and really put the best team out on the park.
"The feedback I got was that I added value when I was part of the squad and to be completely thrown aside because of a few fresh faces has been the pinnacle (sic) of this season."
Just as the old pros didn't like being kept out by callow youngsters, if Zahra's comments are anything to go by, there is clearly resentment from certain fringe players at seeing spots in the team taken by new arrivals Darvydas Sernas, Nebojsa Marinkovic and Rostyn Griffiths.
Every club has players who aren't happy because they're not playing or who don't agree with certain decisions. In the tightly controlled world of modern sports media, hearing an athlete publically criticise their coach is a rarity that should send alarm bells ringing.
At the Glory, either through official or unofficial channels, it's becoming the norm. Too often recently the club has taken the easy option and sided with its unruly players ahead of the coach. If that continues, the faces on the bench will keep changing, and the trophy cabinet will keep gathering dust.