Goal Australia brings you all the news you may have missed from the A-League, the Socceroos and around the football world
Roar not scared of Wanderers cauldron
Brisbane coach Mike Mulvey says his league-leading team will not be overawed when they seek a first victory over second-placed Western Sydney at their Parramatta Stadium home on Friday.
"The place we're going to is a very hostile environment in the best possible sense," he said.
"Last time we played there, I think we were a bit intimidated. Not this time."
Hersi linked with Utrecht
Out-of-contract Western Sydney forward Youssouf Hersi has been tipped to return to the Netherlands with Utrecht, as Wanderers chairman Lyall Gorman declined a chance to deny the speculation.
"We have not been contacted directly by Utecht but that does not mean something informal has transpired," he told
The World Game
.
Juric seeks to curb temper
Staying in Parramatta, Western Sydney striker Tomi Juric knows he needs to become more disciplined after picking up five yellow cards in eight games this season.
"I realise myself that I have to slow down a bit, avoid some of those challenges and silly yellow cards," he said.
"Once I do that, I think I'll be on the right path."
Zullo explains transfer frenzy
Adelaide United's Michael Zullo, on loan from Utrecht, believes one of the busiest mid-season transfer windows in A-League history is all down to players hoping to earn a ticket to Brazil in June.
"There has been a lot of movement and that's obviously because of the World Cup,'' Zullo said.
"Everyone is trying to get out of situations where they're not playing and trying to get to a club where they give themselves the best opportunity to make the World Cup squad."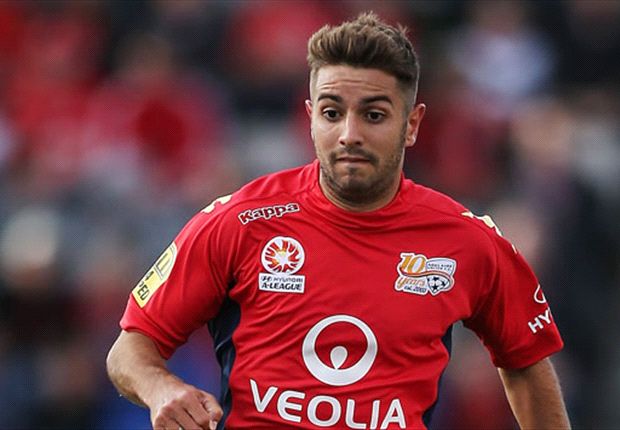 Dreaming of Brazil | The versatile Reds wideman hopes to impress Ange

Ognenovski laments Middle East limbo
Striking the same note as Zullo, new Sydney FC signing Sasa Ognenovski has acknowledged his time as Umm-Salal may have hurt his World Cup chances
"Obviously playing over there in Qatar doesn't help," he said.
"I don't think too many people would get up to watch a Qatar Stars League game."
Hoffman, Heart still aiming for finals
They might be eight points adrift at the bottom of the table, but Jason Hoffman claims Melbourne Heart can still finish in the top six.
"Realistically and mathematically, it's definitely a goal for us," he said.
"Why can't we go on a run and make it?"